Hours
Box Office open at 12:00 PM
Gates open at 12:30 PM
Event ends at 9:00 PM
Arrival & Parking
With several bus routes, parking spots, bicycle racks throughout campus, designated Lyft pick-up and drop-off zones, and the Seattle Center Monorail at our doorstep, there are plenty of ways to get to and from Seattle Center.
Acceptable Identification
This event is open to fans who are ages 21+ and above. Apart from your ticket and good vibes, the most important thing to have is an accepted form of identification. Before you head to the park, make sure your ID is good to go!
Any US or Canada government-issued driver's license or ID card containing a photograph and date of birth.
Foreign government-issued passport containing a photograph and date of birth.
Foreign government-issued driver's license/ID with color photocopy of passport (Not valid for 21+ wristband. To purchase alcohol or enter VIP areas, a physical passport or US ID will be required.)
DMV Paper ID valid only with expired ID in hand. Please note, at the discretion of security, a second form of identification, such as a passport or government-issued ID, may be required to verify age.
Health & Safety Protocol
Masks are encouraged for non-vaccinated attendees for the duration of the event, and will be required for all guests and staff in the indoor spaces including the restrooms and pavilion.
Additionally, we ask that you not attend if any of the following is true for you or anyone in your party:

– If you have tested positive, or been exposed to someone who has tested positive for, COVID-19 in the 14 days prior to the event.
– Within 48 hours prior to attending the festival, you have experienced symptoms of COVID-19.
– In either case, please reach out to contact@discodonniepresents.com for a refund. If your ticket is resold or scanned at the event for any reason you will not be eligible for the refund. Refunds must be requested by the end of day Monday, August 7th 2023.
ADA
We are dedicated to providing an accessible festival experience to all fans. For assistance with accessible features, including parking, restrooms, viewing platforms, and more, please email: ADA@discodonniepresents.com
Event Map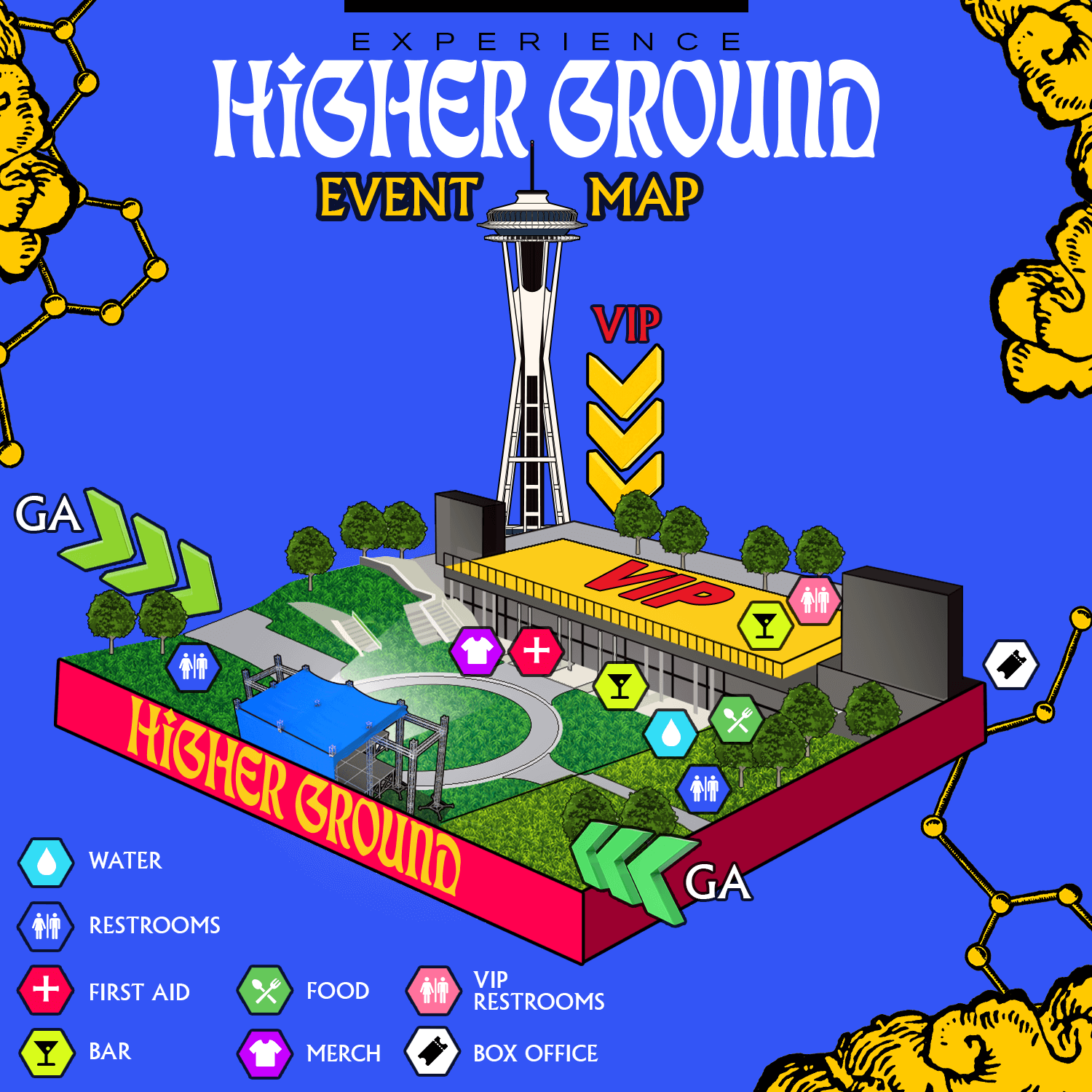 RideShare Map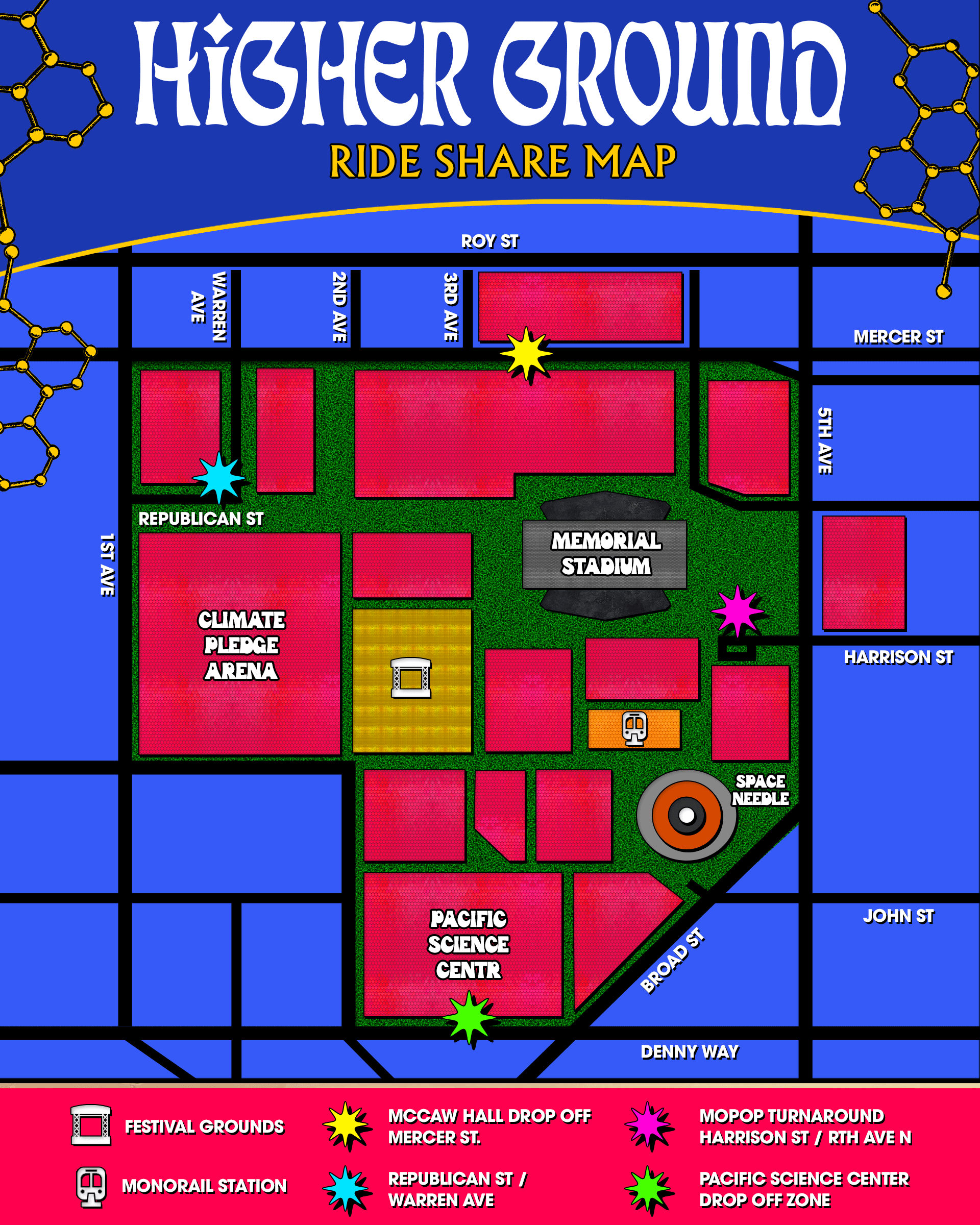 Higher Ground IS A 21+ Event – Bring legal proof that you are old enough to party!
Yes
Do keep cool- Umbrella, personal misting devices are welcome
Do bring a bag- Small bags, fanny packs, single compartment bags under 12"x12"
Do Bring Day Party Essentials- Sunglasses, Sunscreen, hat
Do Feel free to bring in sealed chapstick, gum, and cigarettes or disposable e-cigarettes/ nicotine vaporizer pens
Do Get your totem on- totems under 10 ft tall will be permitted. See totem guidelines below.
No
No Re-Entry
No Refillable Juice/Liquid Vapes
No Fireworks
No Outside Food or Beverages
No Weapons or Projectiles
No Drugs or Drug Paraphernalia
No Cameras with detachable lens
No Audio/ Video Recording devices
No Personal Shade Structures and tens
No Coolers or chairs
No Animals
No Hula Hoops/ Flow toys
No Glow Stickers or LEDs of any kind
No Cans or Glass Bottles
No Wagons, carts, bicycles, skateboards or skates
No laser pointers, airhorns, or noisemakers
No drones
No stickers or flyers
No unsealed over the counter medications or vitamins
No Items deemed as posing a threat to the safe enjoyment of the concert by management
Tickets:
To expedite entry, please have your ticket confirmation printed or pulled up on your phone prior to reaching the entry gates so we can quickly and easily scan you into the event
Food:
A couple of our favorite food trucks will be there. Its "First Come, First Serve" so arrive early and grab some grub
Smoking:
While marijuana is legal in Seattle, smoking or consuming marijuana in public is not. Smoking tobacco within 25 feet of buildings, vendors, or people in lines is also prohibited
Prescription Medication:
Prescription Medications are allowed, if accompanied by a script from your doctor, with the name matching your ID and medicine bottle and only the dose for that day. No narcotics will be allowed.
Totems:
OK flags, decorated pool noodles, and totems that do not contain metal pieces, sharpened elements, or are capable of being pounded into the ground or hurting others. Totem guidelines: Maximum height 10 feet, made from lightweight material (foam, pvc, etc.). Poles must be no thicker than one inch in diameter and cannot contain solid metal pieces. Decorated pool noodles are recommended. Any items deemed dangerous, promoting illegal activity, or hate speech will not be permitted. Totems are subject to inspection.
Sunscreen:
NO Unsealed or Aerosol Sunscreen
OK – Factory Sealed Sunscreen (Travel size, non-aerosol)