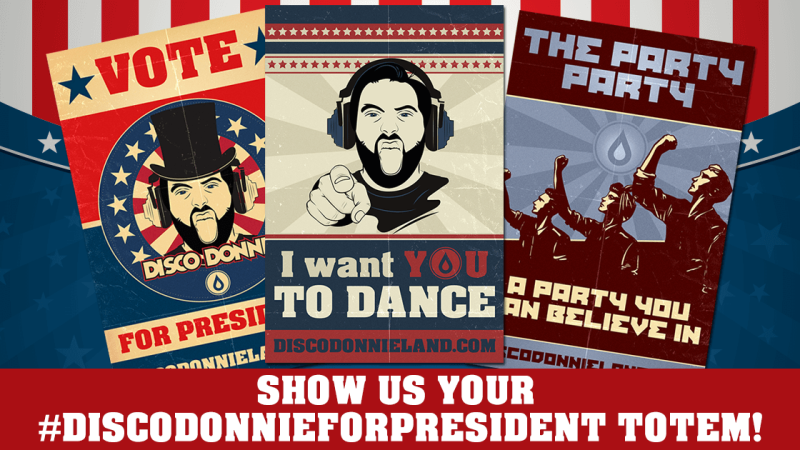 Fellow party constituents, if your House [Music] of Representatives has let you down – here's your chance to win big and rave on at Something Wonderful this spring. It's time to make the party truly great again which is why you should endorse Disco Donnie for President!
Before you head out to the Texas Motor Speedway on Saturday, April 23rd, cast your vote for Disco Donnie for President by entering the festival totem contest and you could land VIP ticket upgrades, an exclusive backstage tour, and more! Find inspiration for your totem design at DiscoDonnieLand.com.
How to Enter
Here's how to enter our festival totem contest and cast your vote for Disco Donnie for President!
Design and create your custom Disco Donnie for President totem.
Submit a picture of your totem by Friday, April 15th on Instagram using the #DiscoDonnieForPresident hashtag, and don't forget to mention Something Wonderful!
The top five submissions will be selected two weeks prior to the event. Fans can then head to @DiscoDonniePresents' Instagram to cast their vote for their favorite #DiscoDonnieforPresident totem.
Prizes
Two winners will be announced one week prior to Something Wonderful and in addition to the grand prize winners and runner-up, all contestants are invited to bring their totems for a photo op at the Disco Donnie for President headquarters at the festival.
Our Wonder winners will receive…
VIP ticket upgrades.
Festival merch package.
Exclusive backstage tour.
Our runner-up will receive…
Disco Donnie for President merch pack.
Please note that winners receive a VIP upgrade, not tickets.