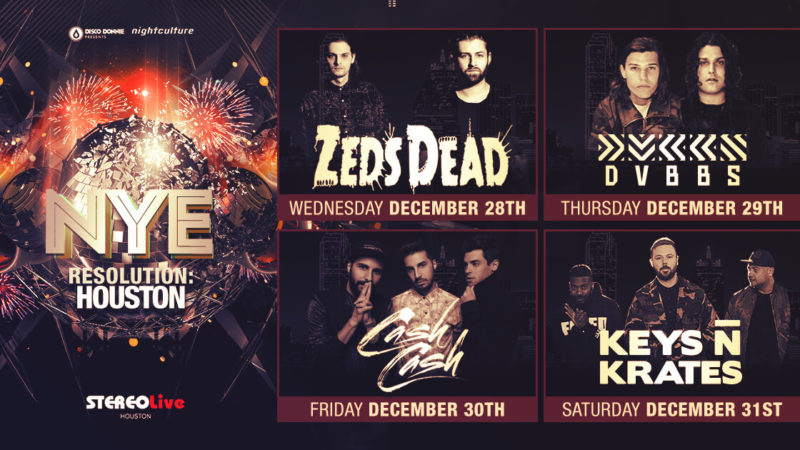 The holidays are upon us which means it's time to make New Year's plans to celebrate the end of another year with a final sonic boom! Houston's own Stereo Live will be going off with a bang all weekend long, so make your NYE Resolution at one of four back-to-back shows running from Wednesday, December 28th through Saturday, December 31st. It's a non-stop party 'til 2017 with Zeds Dead, DVBBS, Cash Cash, and Keys N Krates!
Now offering payment plans, so you can buy tickets to all four shows in two easy installments!
Kick It Off With Zed's Dead
Born out of the basement of a Toronto dive bar, Canadian duo Zed's Dead first met at a young age when they bounded over sample swapping and crate digging. Having found a combined sound that at once captures the ecstasy and comradery of house, the pummeling thrill of drum n' bass, the heaviness of electro, and the beauty of ambience; DC and Hooks are well equipped to push the boundaries as we jump start New Year's Eve on Wednesday, December 28th at Stereo Live. Buy tickets now!
DVBBS Tear It Up
Brotherly duo DVBBS are set to invade Stereo Live on Thursday, December 29th for a head-banging, booty bouncing trap-house set — and we could not be more ready. Get tickets today and prepare to feel the hype!
Cash Cash Make It Rain
Cash Cash takes an electro-pop party to another level, turn up on Friday, December 30th at Stereo Live to find out just how sexy their tunes can get. You're sure to hear songs from their Blood, Sweat and Tears album, so grab tickets today to leave it all on the dance floor.
Keys N Krates Ring in 2017
If you've never seen Keys N Krates live you're in for a serious treat this New Year's Eve. These talents throw down on a hybrid electronic live band set that packs all the feels and is guaranteed to blow your mind. Ring in the new year with flare and get tickets to see Keys N Krates on Saturday, December 31st at Stereo Live!
Join us to sweep New Year's with week-long passes to Stereo Live for just $62 down!