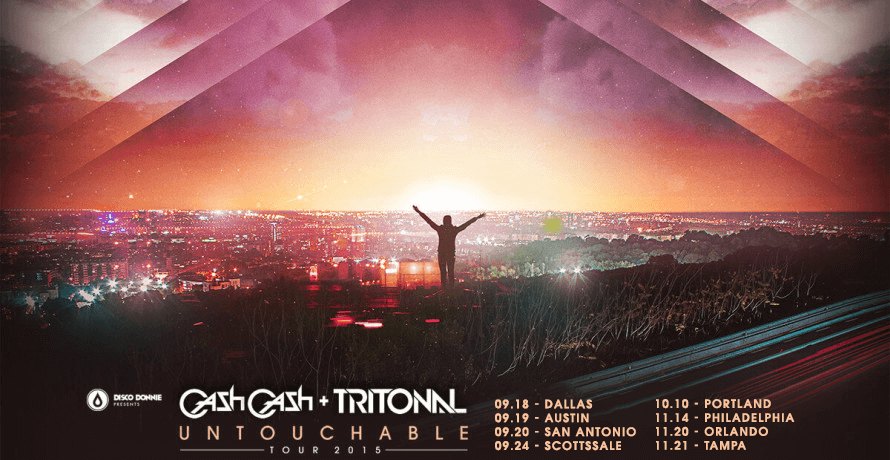 Bringing their eclectic sounds across North America, the talented quintuplet collective of Cash Cash and Tritonal are getting ready to embark on the Untouchable tour. Marking both acts' biggest tour to date, Disco Donnie Presents is excited to join in on the action this fall.
The boys of Cash Cash have been thinking about going on this tour for a while, "We've been wanting to do a full US run like the Untouchable tour for quite some time," JP Makhlouf says. "Clubs and festivals are amazing but it's always fun to go city by city night after night in a bus hitting all the places we don't normally get to play when we're on a fly out schedule. That being said, we're thrilled to embark on this journey with our good friends Tritonal. Our styles fit together really well and doing a song/tour together makes perfect sense. Mark your calendars and come get wild with us!"
Texan duo Tritonal were on the same page with the Untouchable tour idea, "The Untouchable tour is hands down the largest and most extensive American and Canadian tour that we've ever embarked on," says Chad Cisneros. "There have been so many countless hours in the studio leading up to this point, and we can't even express how excited we are to play all the new and old Tritonal records across all of the cities. We couldn't pick a better bunch of guys than Cash Cash to jump on a tour bus with. Let the craziness begin!"
The craziness of the Untouchable tour begins this September and we're definitely bracing for an awesomely brutal impact – join us on our partnering dates!
Upcoming Cash Cash & Tritonal Events