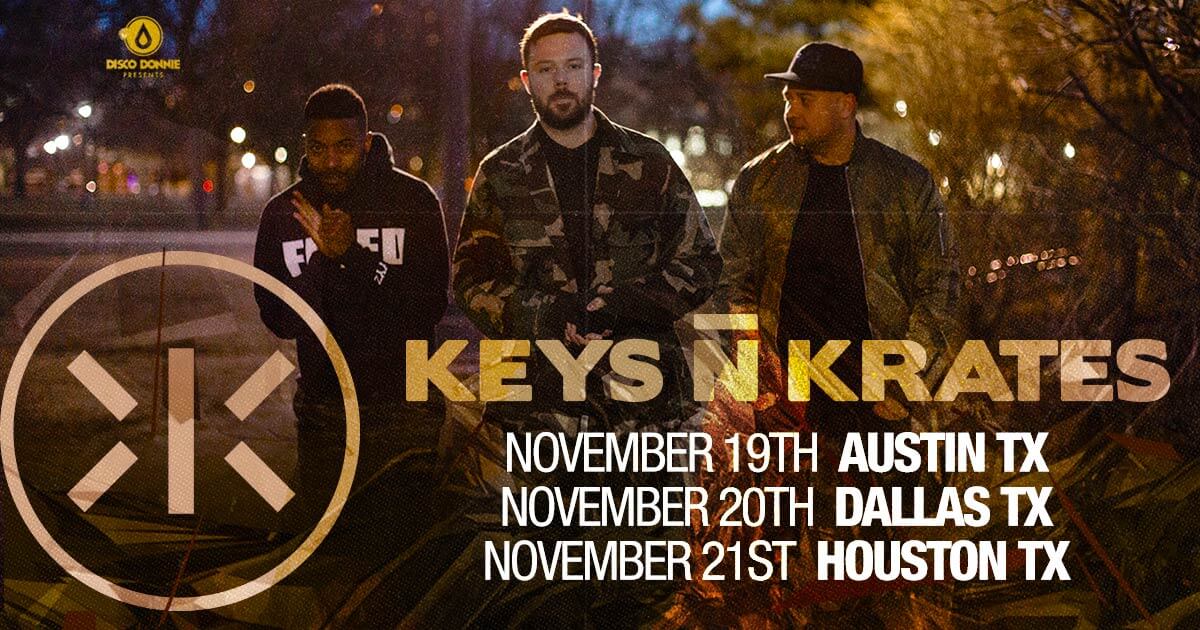 Have you ever been at a show and heard music that was just so good you had to run on stage naked? If you answered no, then you probably haven't been to a Keys N Krates show lately. Well, that changes soon since we're bringing the talented trio on select dates this November.
Upcoming Keys N Krates Events
Who's Keys N Krates?
Hailing from Toronto, Canada, Keys N Krates first gained traction by remixing tracks by artists like Mos Def, Tribe Called Quest, The Fugees, Dr. Dre, and Simian Mobile Disco. Made up of drummer Adam Tune, synth/keyboardist David Matisse, and internationally award-winning turntablist Jr. Flo, it didn't take very long for the boys to realize their electronic sound translated well into live performances.
"Our live show is what really gave birth to this whole thing," Flo says. "At first we just really wanted to do something new and cool that was live, so we started with doing these live remix/covers of rap tunes and jamming on those. We always wanted to be a modern party band so we very early on wanted to draw on pop culture references to get people into it right away. However, we eventually started making our own beats and music that was more bass driven so we had to figure a way out how to play that live and keep with our mantra of doing everything 100% live with no backing tracks. So we replaced our live kick with a trigger kick that plays a lot of 808s and punchy kicks and that was kind of the game changer for us, in having a bigger more bass driven sound, and also having our own original beats incorporated into our show. So now when you come to see us it's a lot of our own music but mashed up with familiar samples and references. It's a party."
Bringing their awesome blend of bass heavy material with influences of hip hop, trap, and electronica, the party comes to Texas this fall and we couldn't be any more excited. Be sure to check out to their first single of 2015, "Save Me" and join us on our partnering dates!