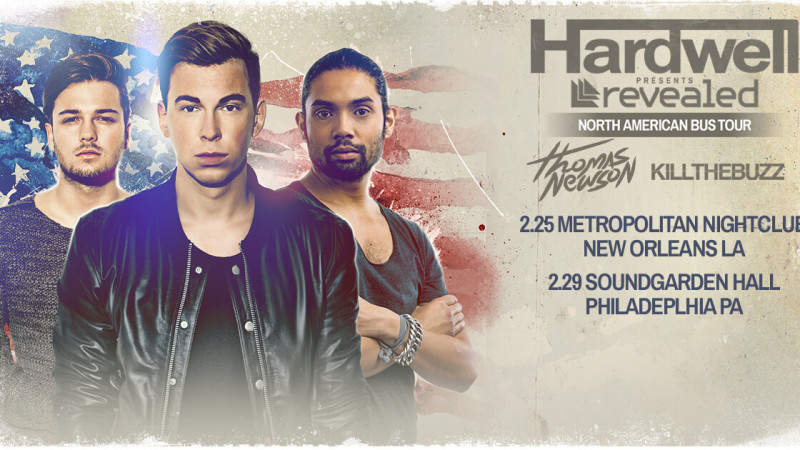 Although he may be the youngest ever winner of DJ Mag's coveted #1 position in their Top 100, Hardwell's years of tireless devotion and hard work have now made him a seasoned veteran with a long-lasting legacy. Now, the Revealed Recordings label head is helping out a new generation of budding artists with an upcoming tour! Kicking off in February and ending in March, the third Revealed North American Bus Tour will travel across major cities in the U.S. and Canada and feature the label's head-honcho plus Thomas Newson and Kill The Buzz.
Upcoming Hardwell Events
United with Hardwell
Things have gone pretty well for Hardwell in 2015 – not only did the Dutch talent perform at a record-setting charity concert in Mumbai but the iconic producer, DJ, and label founder also released his long-awaited debut album United We Are at the start of last year. Teaming up with artists like W&W, Amba Shepherd, and DallasK, United We Are gave us a well-rounded stack of tunes from progressive house fillers, electro dance floor killers, and even a pop-infused number in "Follow Me" with Jason Derulo.
Though the year is winding down, Hardwell is still ready to turn up with the recent release of his United We Are remix album. Enlisting talents such as Chocolate Puma, Vicetone, Bingo Players, and even Armin van Buuren, the United We Are remix album is out now and comes just in time to prepare us for the impending bus tour.
Mounting off the success of Revealed's 2013 Canadian tour and 2014's North American tour, the third edition of the iconic bus tour will be bigger than ever before with Revealed talents Hardwell, Kill the Buzz, and Thomas Newson soundtracking the night in 11 major cities across the United States and Canada. You can come be united with us when you join us on our partnering dates!
[soundcloud url="https://api.soundcloud.com/tracks/234063822″ params="color=000000″ width="100%" height="166″ iframe="true" /]