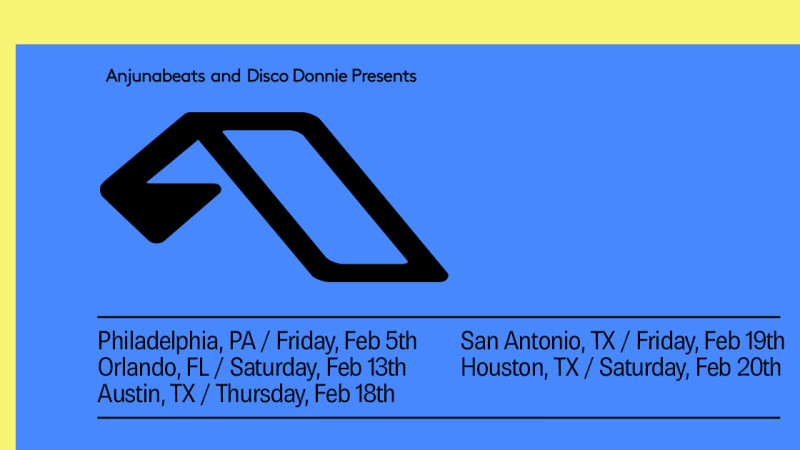 At the forefront of progressive trance and house music, the Anjunabeats imprint has spread their unique sound worldwide since being founded by Above & Beyond in 2000. After a solid 15 years of amazing tunes, the label is ready to take on their largest North American tour to date. Featuring artists such as Andrew Bayer, Ilan Bluestone, Grum, and up-and-comer Jason Ross, look out February because we're bringing the North American Anjunabeats Tour near you.
Upcoming Anjunabeats Tour Events
Catching Up with the Artists
Having been part of the Anjunabeats family for quite some time now, Andrew Bayer has established himself as one of the most dynamic acts on the imprint thanks to his arsenal of tunes that span from downtempo progressive house to club-ready progressive trance.
Anjunabeats veteran Ilan Bluestone likes to add a touch of big room to his progressive sound, adding high energy with a focus on melodies that make him a crowd pleaser at every event he plays. Grum has a progressive touch to his Balearic blend of house music, adding a unique sound to Anjunabeats' already vibrant roster.
Also joining this stacked tour the newest member of the Anjunabeats imprint Jason Ross. Capturing the attention of many international heavyweights, Ross' sets have a thoughtful song selection with an energetic stage presence of a seasoned veteran.
Be a part of the biggest Anjunabeats tour to date this February 2016 and buy your tickets today.
[soundcloud url="https://api.soundcloud.com/tracks/193817417″ params="color=ff5500&auto_play=false&hide_related=false&show_comments=true&show_user=true&show_reposts=false" width="100%" height="166″ iframe="true" /]
[soundcloud url="https://api.soundcloud.com/tracks/211479391″ params="color=ff5500&auto_play=false&hide_related=false&show_comments=true&show_user=true&show_reposts=false" width="100%" height="166″ iframe="true" /]
[soundcloud url="https://api.soundcloud.com/tracks/169506499″ params="color=ff5500&auto_play=false&hide_related=false&show_comments=true&show_user=true&show_reposts=false" width="100%" height="166″ iframe="true" /]