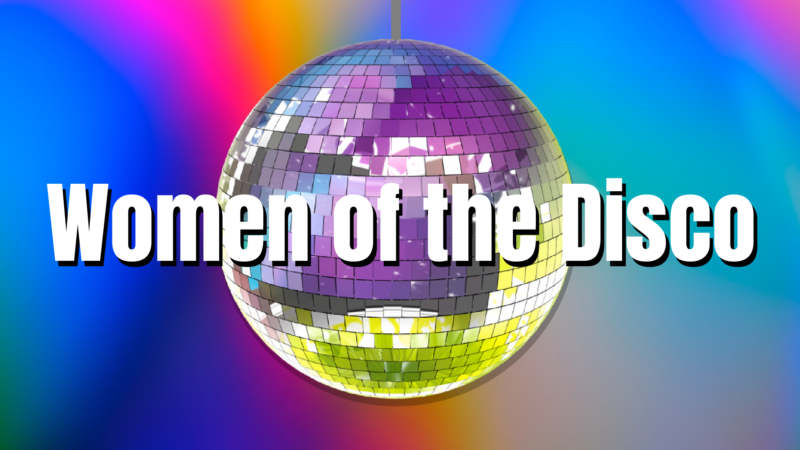 While it's no secret that women are underrepresented in the Music Industry; Female leadership has proven to be an imperative factor for the success of the Electronic Dance scene. Women of The Disco is an initiative to highlight some of those powerhouses who are trailblazing the path and shaping the future of EDM.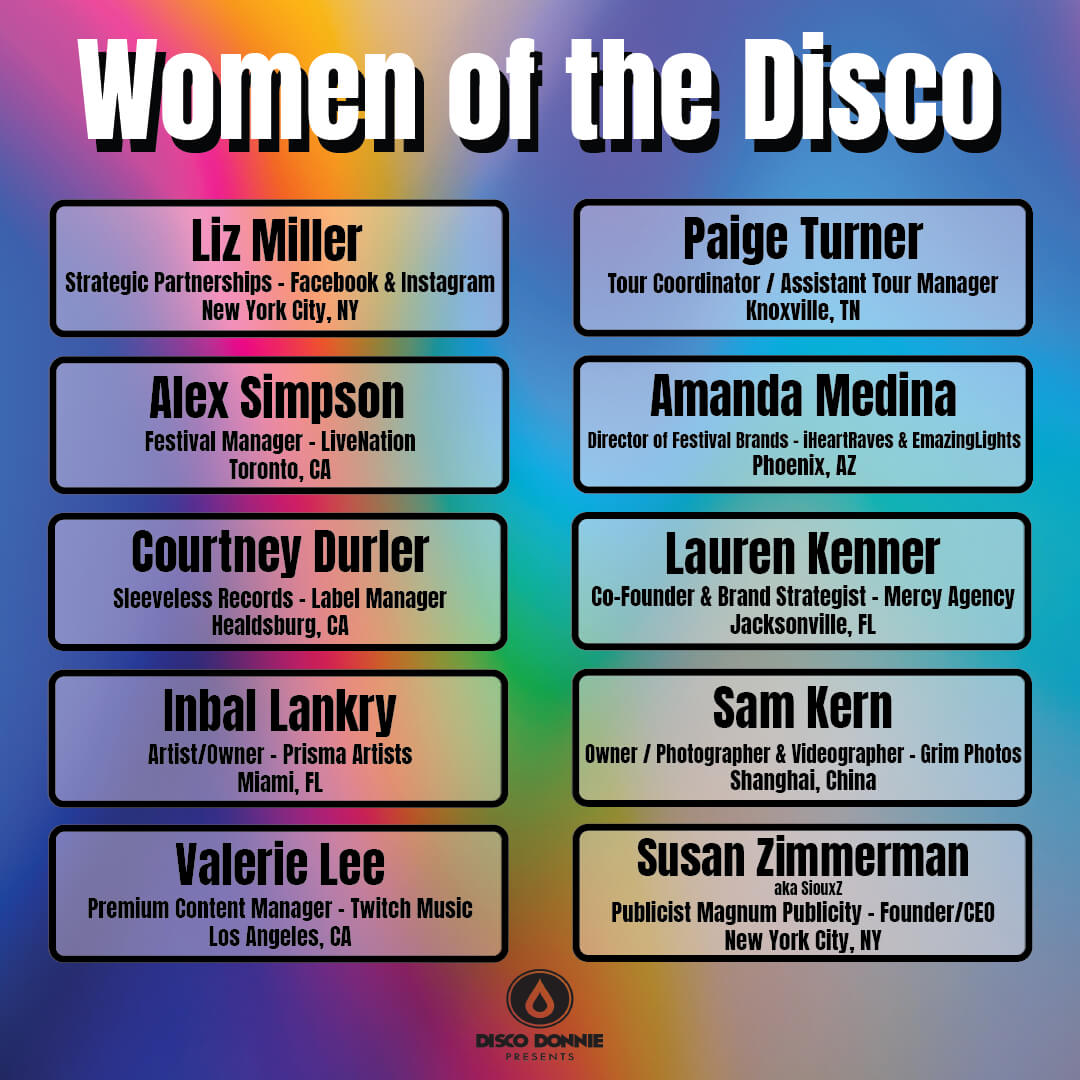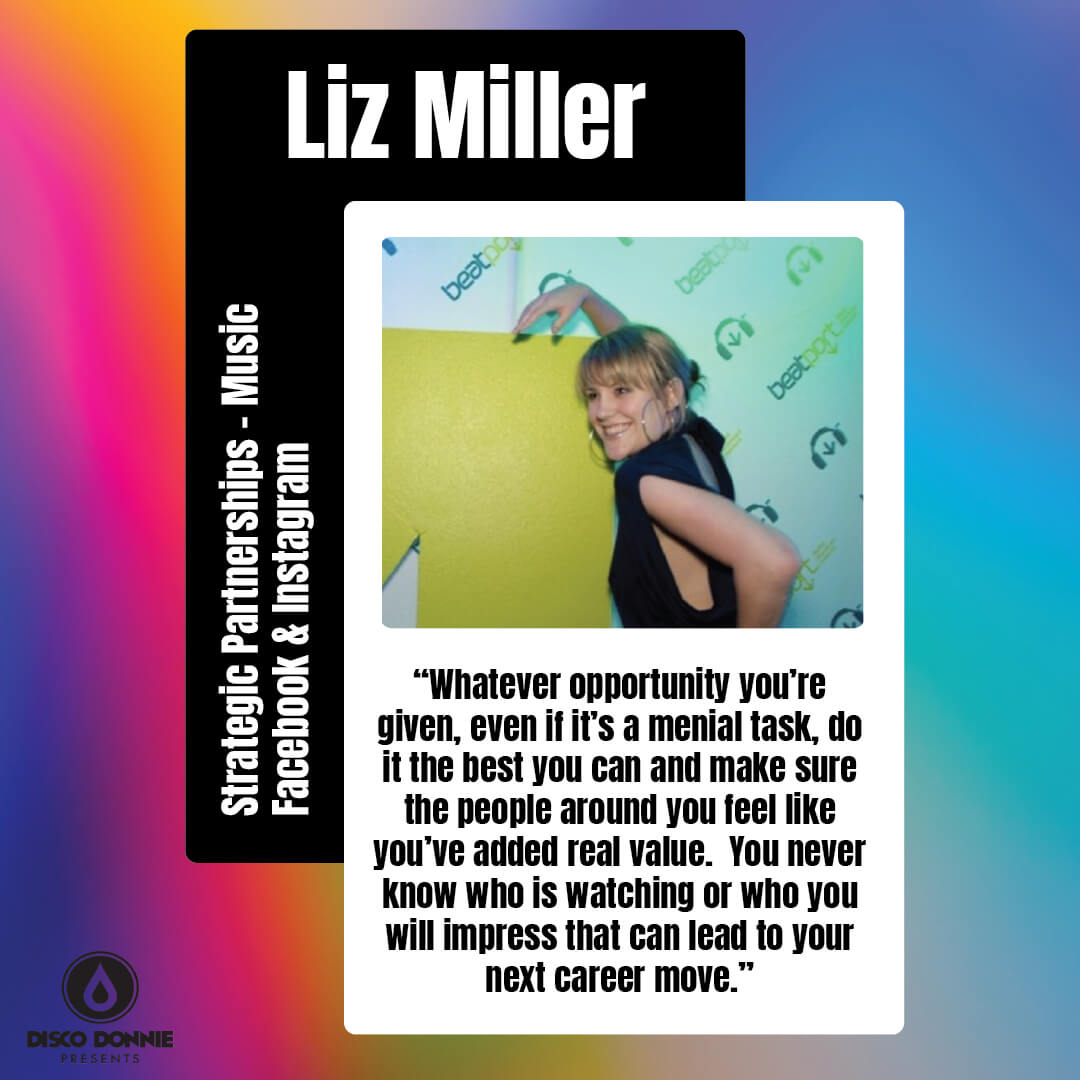 Liz Miller
Facebook & Instagram | New York City, NY
Liz got her start in the music industry in 1996 by passing out flyers for raves in Boulder and Denver in exchange for free entry, which eventually led to being paid to pass them out. After doing that throughout college, the role turned into a full-time job in 1999 working with the promoter Together Productions putting on legendary events like the Skylab series.
Then in 2003 Liz was the second employee to join the not-yet-launched platform called Beatport where she helped conceptualize and implement account management strategies for labels and distributors selling their music on the platform.
In 2006, Liz moved to Berlin to help expand the Beatport label account management team, to then later be headhunted to move to NYC in 2010 to act as General Manager and oversee the re-launch of the legendary Big Beat Records imprint under Atlantic Records.
After some time at two other electronic music-focused companies (SFX and Dubset), Liz has now been in a role at Facebook and Instagram since 2018, where she is a Strategic Partnerships manager for music artists in all genres working with anyone from Metallica to Coldplay to Willow Smith. The role consists of talking with artists and their teams about new products across platforms and ensuring they are effectively using these features to reach fans and find new ones.
Liz's piece of advice for women in the industry; "Whatever opportunity you're given, even if it's a menial task, do it the best you can and make sure the people around you feel like you've added real value. You never know who is watching or who you will impress that can lead to your next career move.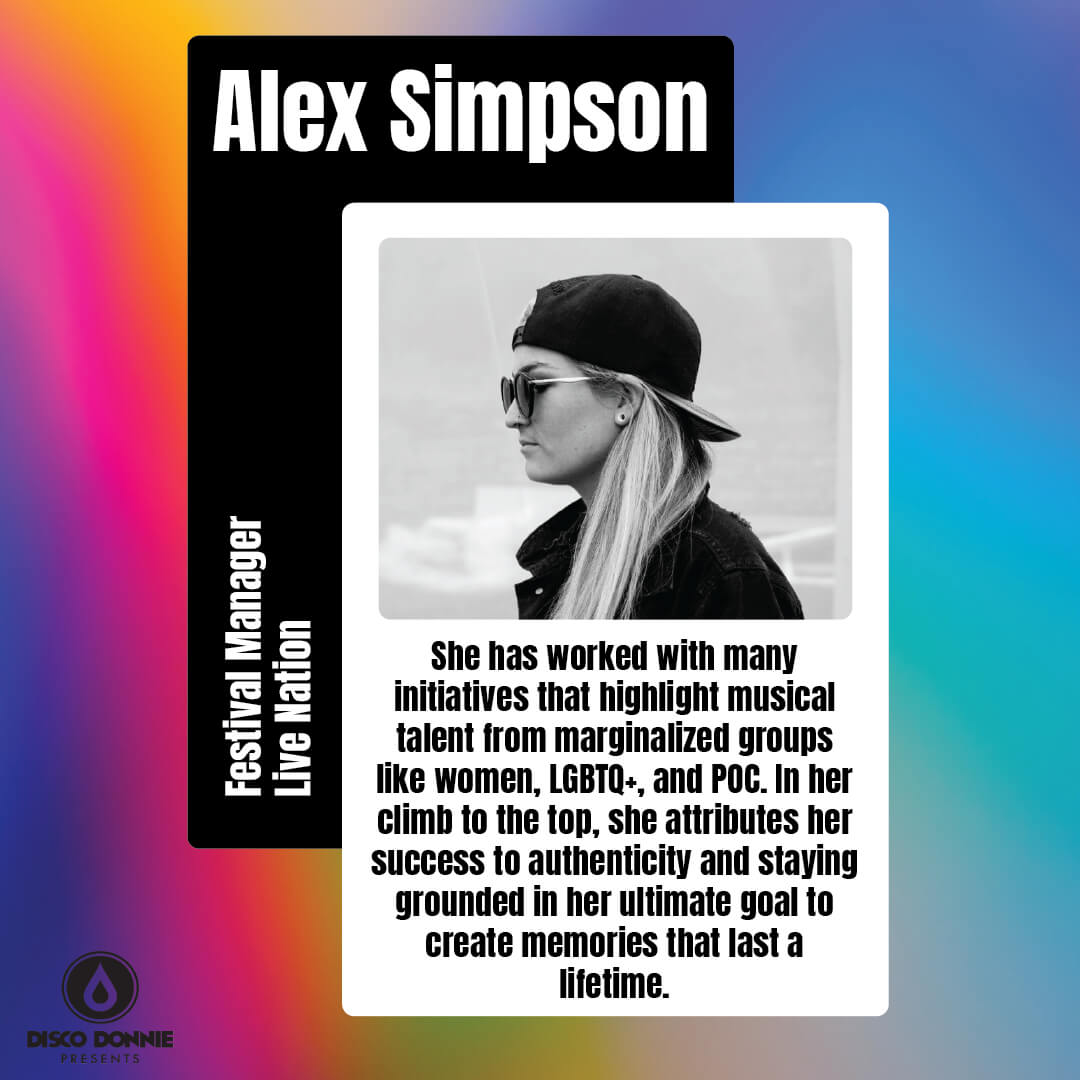 Alex Simpson
Live Nation | Toronto, CA
Alex Simpson is a festival manager for Live Nation currently based out of Toronto, Canada. As a festival manager, her job is to create immersive fan experiences reminiscent of those that inspired her to join the music industry and create these large-scale events. Like many in the events industry, her talents don't fit in just one box! She's a jack queen of all trades, with her hands on everything from socials and branding to ticketing and VIP programs to production and lineup curation. She fell in love with the magic of festivals in 2012, and joined Live Nation as an intern in 2014. There, she got her first taste of working in the electronic festival space and never turned back.
In just 6 months, she had a full-time role on that same team, and she's been forging her own path at Live Nation for the last 6 years to her current role as festival manager, where she will oversee multiple properties nationally. She's worked on many festival properties, most notably Dreams Music Festival, as well as VELD, CBC Music Festival, Field Trip, Escapade, and Matty Fest. She is also joining the JUNOS Dance Recording committee for 2022 to help shine a light on emerging electronic talent in Canada. Over the years she has worked with many initiatives that highlight musical talent from marginalized groups like women, LGBTQ+, and POC. In her climb to the top, she attributes her success to authenticity and staying grounded in her ultimate goal to create memories that last a lifetime.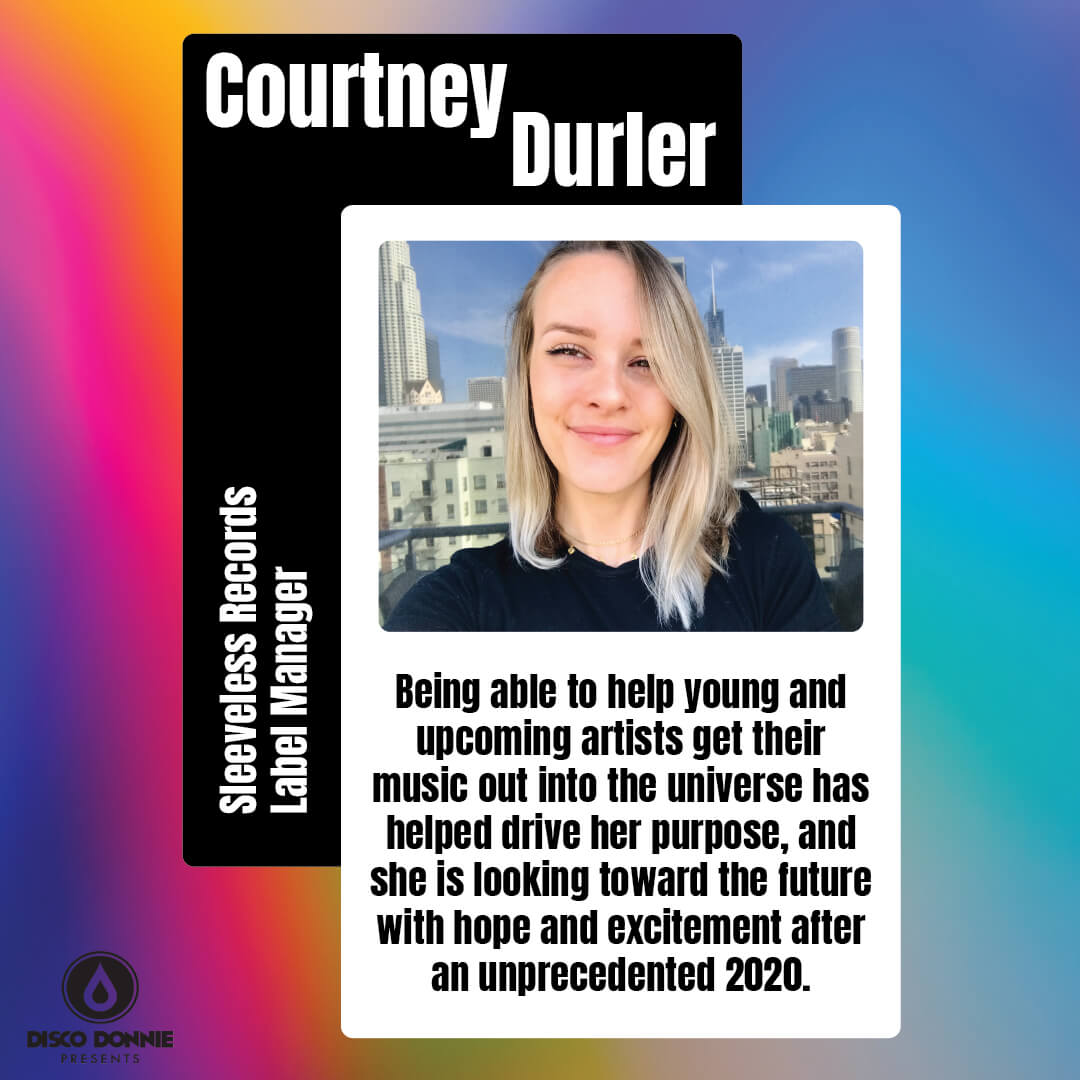 Courtney Durler
Sleeveless Records | Healdsburg, CA
Courtney's journey in music began in 2015 when she was living in San Francisco. She took on merch design and fulfillment responsibilities part-time for Sleeveless Records and even bought a sewing machine to get her feet wet in merch production. As time went on, Courtney took more on and then decided to quit her job in tech and move to LA in 2016 to be closer to the electronic music scene and to manage Sleeveless Records full time.
Courtney's job responsibilities include all kinds of administrational work, setting up an LLC and keeping up with business taxes, sourcing merch in LA's fashion district and working with various printers and vendors on production, order fulfillment, receiving demos and filtering promising submissions, running various social media accounts and campaigns, working with artists on release strategy and timelines, creating engaging content via Photoshop, Premiere Pro, and After Effects, and building the Sleeveless community online and at events through merch vending and group meetups.
In 2018, Courtney stepped into the role of day-to-day manager for Stylust, label boss of Sleeveless Records. This gave her the chance to be more involved in tour planning, intensive brand building, and artist strategy.
Courtney has found success in her role as label and artist manager through routine work ethic and a burning passion for underground bass music. Being able to help young and upcoming artists get their music out into the universe has helped drive her purpose, and she is looking toward the future with hope and excitement after an unprecedented 2020.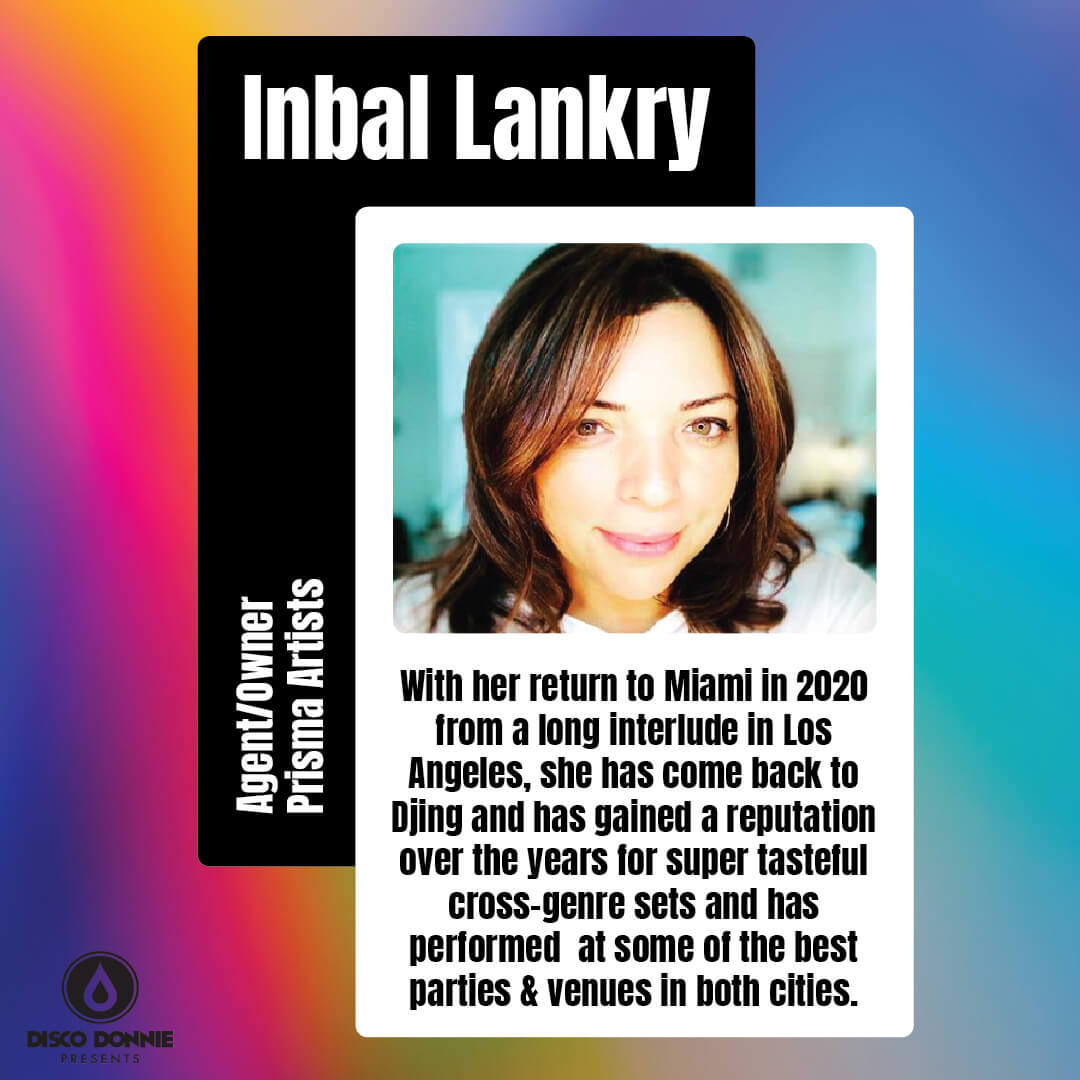 Inbal Lankry
Prisma Artists | Miami, FL
Inbal Lankry is the founder of Prisma Artists, an independent talent agency established in 2017, representing electronic musicians and brands worldwide with a focus on North & South America. For over a period of 15 years, Inbal has developed a solid foundation in various aspects of the music industry ranging from promotions, event production and marketing to bookings and management.
Lankry's beginnings can be traced back to age 15 when she was promoting for legendary New York Clubs, Limelight, Tunnel and Palladium, while simultaneously helping out older brother DJ Baby Sean with his residencies at various hot spots all over the city. She later migrated to South Florida in 2003, where Inbal & her siblings opened Sonar nightclub in Hollywood, voted Best Club of 2004 and 2005 by Miami New Times. A natural progression into DJing followed, making her one of the only female DJ/promoters in Miami's local underground house music scene at the time. With her return to Miami in 2020 from a long interlude in Los Angeles, she has come back to Djing and has gained a reputation over the years for super tasteful cross-genre sets and has performed at some of the best parties & venues in both cities.
After gaining some notoriety in the South Florida scene through her club and satellite parties, she took on the role of Marketing & Booking Director for the legendary Electric Pickle in Miami 2009-2012. Inbal was instrumental in the success of making the venue one of the most sought-after gigs in the United States for artists across the globe. During her time there, the Electric Pickle was voted one of the Best US club by Rolling Stone. Simultaneously, she also produced several events throughout Miami yearly including Get Lost, Paradise, Crew Love, etc.
In 2012 she became one of the agents on Damian Lazarus' formed Rebel Agency that was later to join CAA. After joining CAA and working in the corporate agency world as an agent at CAA, Winidsh/Paradigm where she developed several acts including Hercules & Love Affair, Purple Disco Machine, Soul Clap, Amtrac, Kindness, Fur Coat, etc. she finally branched out and founded Prisma Artists in 2017 where she continues to develop her roster with a passion for innovative artists.
With a far-reaching contact base and years of experience in the industry she provides a high level of service and a unique approach of touring to the following clients on the Prisma roster including (but not limited to): &ME, Francesca Lombardo, Max Cooper, Rampa, Jennifer Cardini, Keinemusik, Telefon Tel Aviv, Patrick Holland, Satori, Adam Port, Moscoman, Tiger & Woods, etc.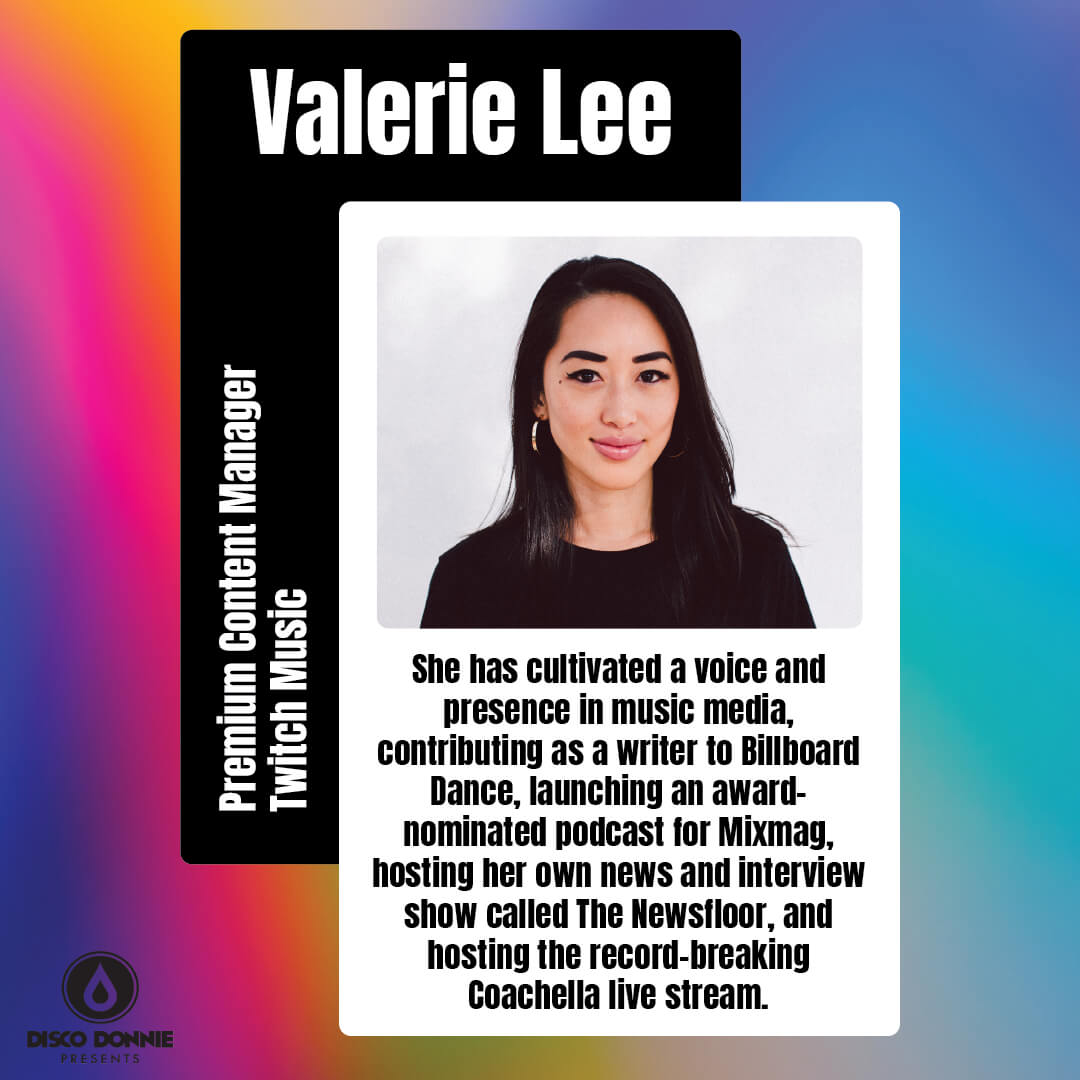 Valerie Lee
Twitch Music | Los Angeles, CA
Valerie Lee is the Premium Music Content Manager for Twitch. At Twitch, she oversees content strategy for Premium Music Partners, working with industry leaders like Rolling Stone, Bowery Presents, Relix, Rolling Loud, Shawn Gee's BlackStream Live, Beatport, Paxahau, and more. Valerie has worked in the world of music, tech, and media for over seven years. Previously, she worked on content partnerships with virtual concert start-up Wave XR, working on The Weeknd's groundbreaking show on TikTok; as the Global Culture Editor at Mixmag, where she oversaw editorial, live events, and live streams; and as the Content Manager at International Music Summit, where she helped to launch the debut IMS China in 2015.
In addition to her work behind-the-scenes, she has also cultivated a voice and presence in music media, contributing as a writer to Billboard Dance, launching an award-nominated podcast for Mixmag, hosting her own news and interview show called The Newsfloor, and hosting the record-breaking Coachella live stream. Valerie lives in Los Angeles and besides music, she is a big fan of the library, dogs, cats, and cooking.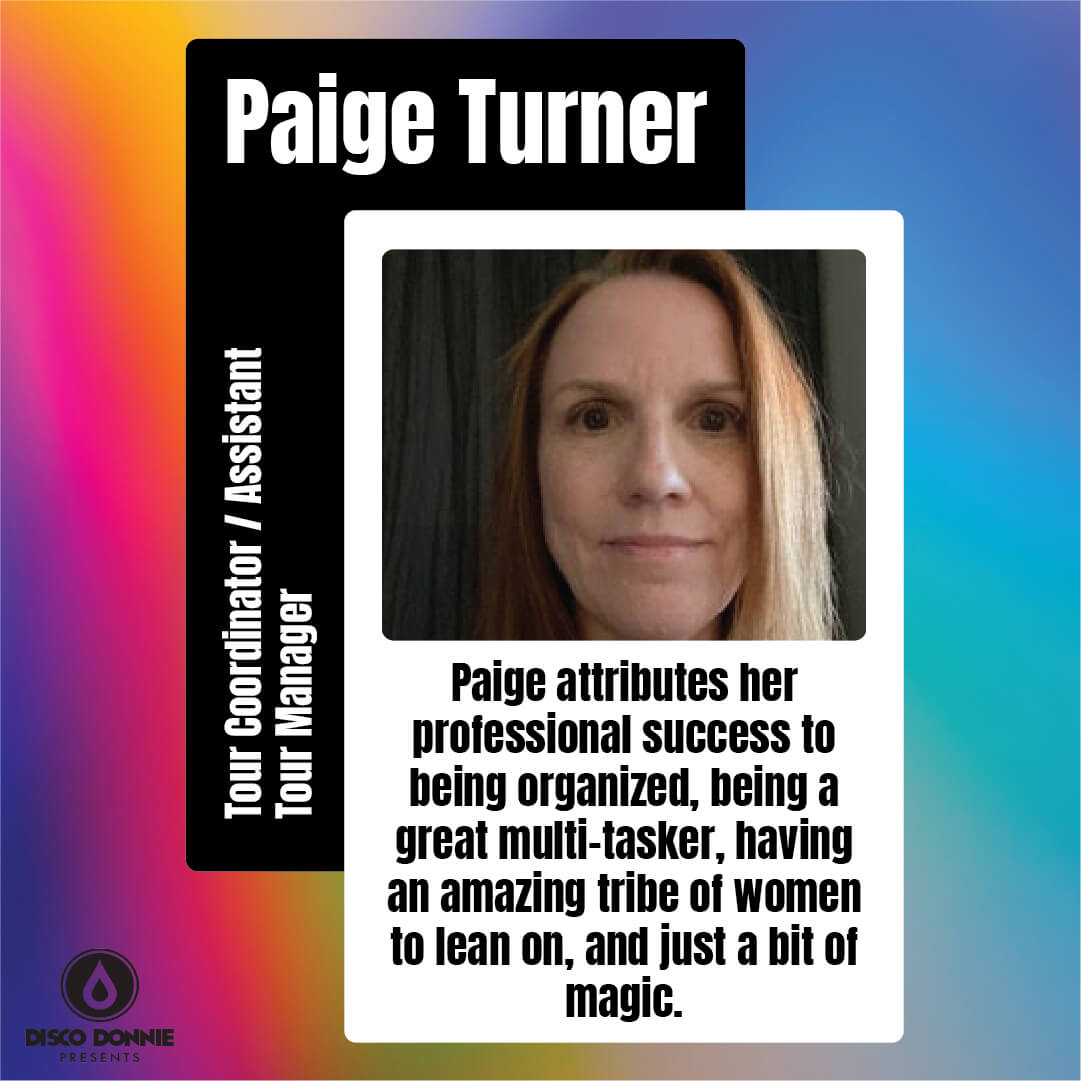 Paige Turner
Tour Coordinator / Assistant Tour Manager | Knoxville, TN
Paige began her journey in the music industry by studying film lighting, at that time she was also working as a local stagehand to make money while in school. Her first touring job was in 2002 as a lighting tech, then in 2005 she became a Production Assistant and Merchandise Manager. In these roles, Paige couldn't help but notice that she was one of only a few women on the entire touring staff, but did not let that deter her. Paige continued to flip between these two roles until about 2012 when she made the leap to Production Coordinator, shortly thereafter moving on to Tour Coordinator / Assistant Tour Manager, and hasn't looked back since.
Her current role involves much more than meets the eye, including weeks of prep before the tour begins and weeks of work wrapping things up after it's ended. Paige's day-to-day workflow varies drastically while touring. Some of her responsibilities include taking care of band/artist's needs/wants, coordinating with local promoters, maintaining daily float, and being an overall badass. Paige attributes her professional success to being organized, being a great multi-tasker, having an amazing tribe of women to lean on, and just a bit of magic.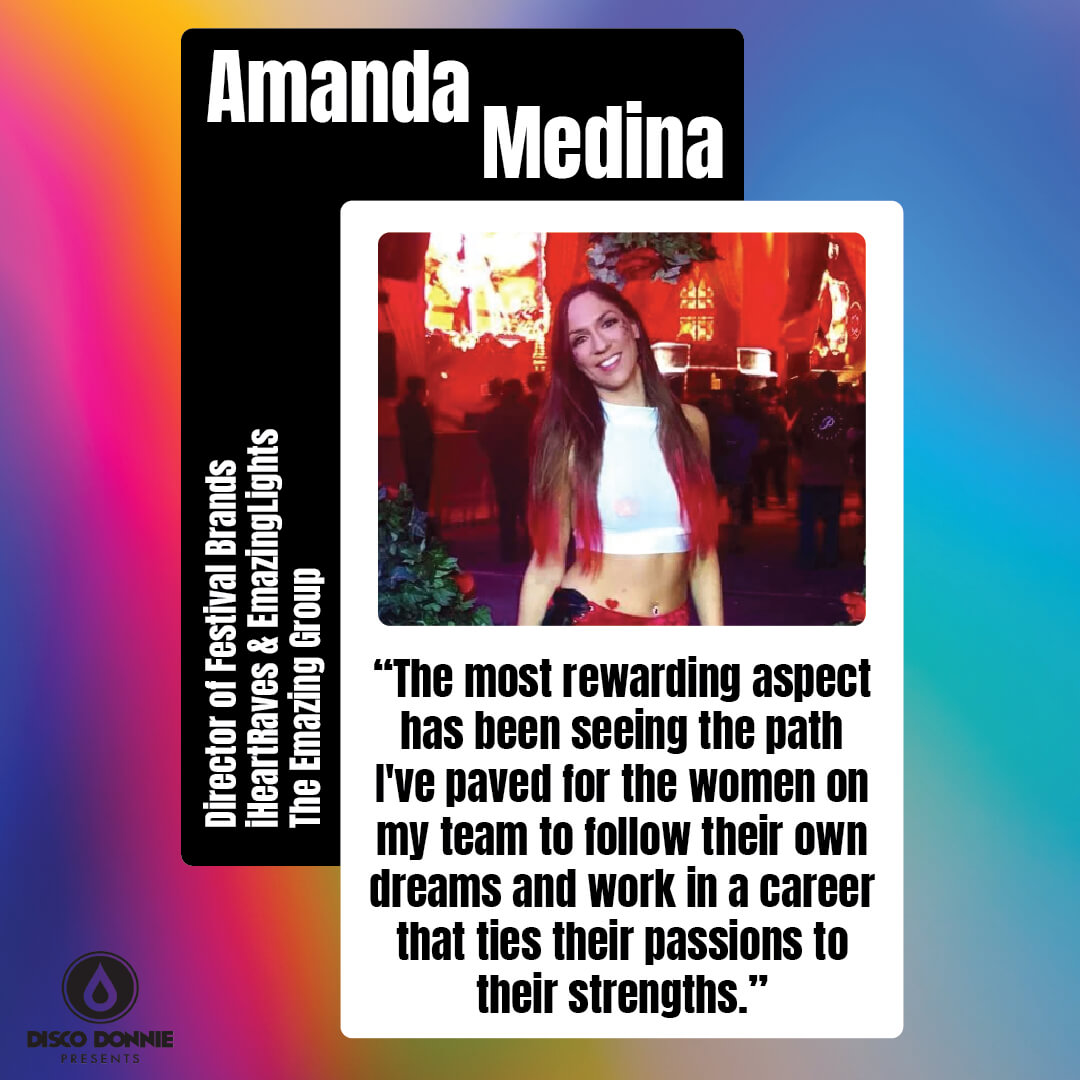 Amanda Medina
iHeartRaves & EmazingLights The Emazing Group | Phoenix, AZ
Amanda's first taste of the industry came when she was in college and interned for Infected Mushroom's tour management. At that time, Amanda found herself enamored with the EDM community as a whole, both professionally and personally. She fell in love with the culture and fashion of festivals so much so that she decided to dedicate her career to spreading that sense of wonder and community with as many people as possible. Fate handed her the opportunity to do just that when she found a Craigslist listing to work with a new start-up, building e-commerce brands in the EDM space; this once start-up is what today stands as iHeartRaves.
Amanda currently manages the acquisition, retention, and brand marketing teams for all 3 of the Emazing Group brands' websites as well as the on-site promotions, partnerships, and sponsorship at festivals. Amanda owes the success of her career and iHeartRaves as a brand to the deep connection they both have with the EDM fan community.
Quote from Amanda: "The most rewarding aspect has been seeing the path I've paved for the women on my team to follow their own dreams and work in a career that ties their passions to their strengths."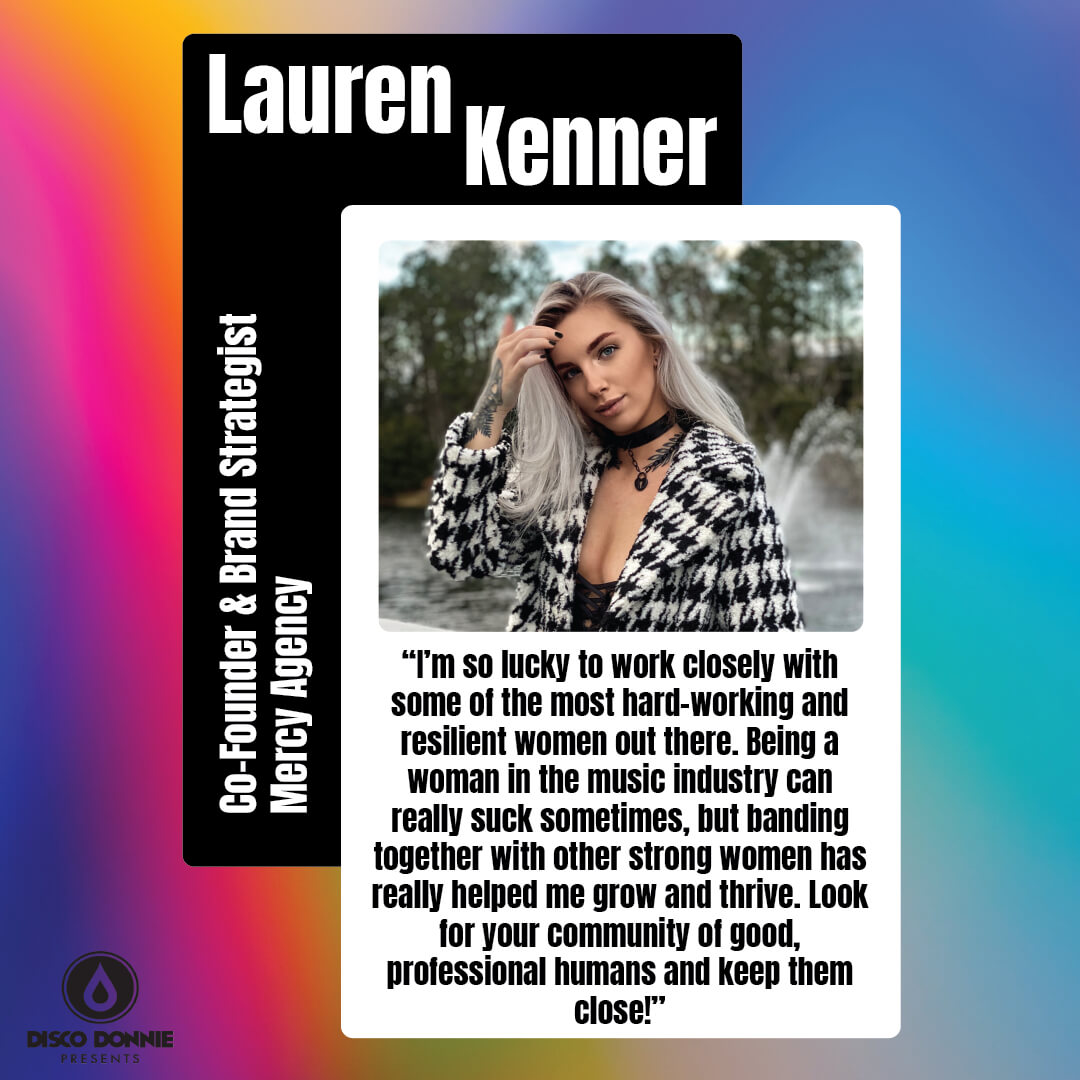 Lauren Kenner
Mercy Agency | Jacksonville, FL
From EDM to hip-hop to pop to television, Lauren has made waves across many areas of the entertainment industry. She is the co-founder of Mercy Agency, an expansive marketing collective focused on developing major artist brands, organic content, and social media strategy. Lauren attributes her success in the industry to networking, a strong work ethic, and strong moral values.
Quote from Lauren: "I'm so lucky to work closely with some of the most hard-working and resilient women out there. Being a woman in the music industry can really suck sometimes, but banding together with other strong women has really helped me grow and thrive. Look for your community of good, professional humans and keep them close!"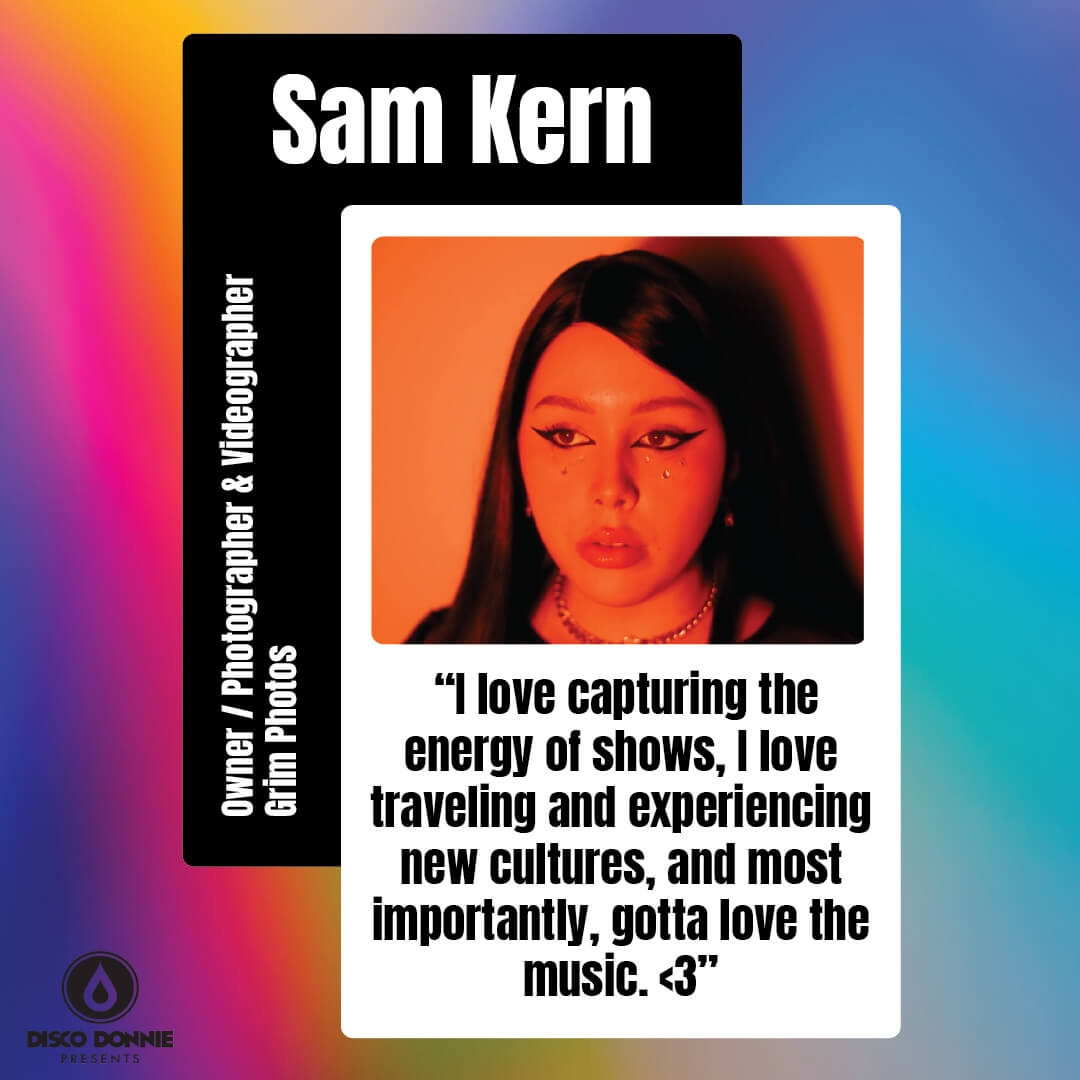 Sam Kern
Grim Photos | Shanghai, China
Sam found her interest in photography all the way back in middle school when her mom gave her her first camera. In high school, she was fond of taking pictures of her friends and local bands. Sam was always the person with the camera taking everyone's picture. This continued through college, however, it wasn't until after college when she moved to Shanghai to start a career as a teacher that she first dipped her toes into the EDM scene. After seeing advertisements for artists she liked coming to Asia, she began sending emails to photograph shows. Following countless emails, Sam's first gig was with Zed's Dead at Creamfields Hong Kong 2017. She was so shocked to even have the opportunity, she almost didn't believe it was real. From there Sam's career began spiraling! She continued to work local events in Shanghai and all over Asia, doing videography and portrait photography and being a tour manager.
During the pandemic, there was really no opportunity to be working with foreign artists so Sam shifted her focus on local talent and added MUA to her skill set along the way, all while still maintaining her teaching job. Sam prides herself on it being rare for her to work with an artist then never work with them again, stating one of her most notable tours were two she did with Rezz in 2018. Sam says passion is what makes her so successful in her career. Currently, she has moved back to the states and looks forward to all her upcoming festival bookings both with reoccurring artists and new ones!
Quote: "I love capturing the energy of shows, I love traveling and experiencing new cultures, and most importantly, gotta love the music. <3"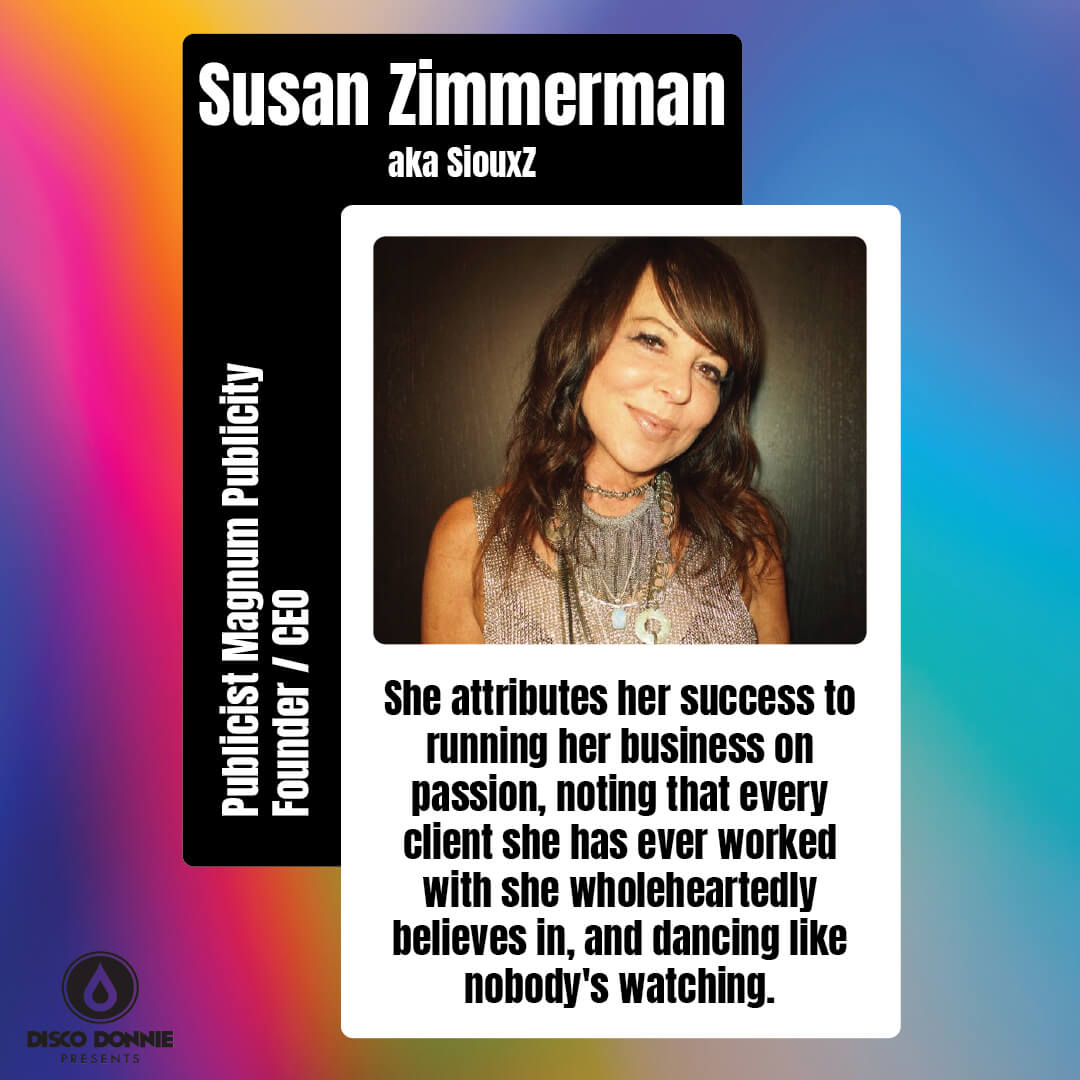 Susan Zimmerman aka SiouxZ
Publicist Magnum Publicity | New York City, NY
SiouxZ attributes her start in the industry to a moment of 'right place, right time'. She started her professional career out as a receptionist for a late-night cult TV music show called "Night Flight", where she learned about music promotion, combining music and visuals, and continued her passion for creative writing. Following this role, SiouxZ became assistant to Head Writing and Director of Music Video Acquisitions, then moved on to TVT Records where she began her career in publicity. Nowadays SiouxZ is straight hustlin'. Being a publicist means constantly dealing with deadlines, sifting through emails daily, industry research, and lots of time management. SiouxZ has worked with an impressive list of clients including Disco Donnie Presents.
As far as achievements go, SiouxZ's are endless. From working with Nine Inch Nails for 10 years to Avicii to Daft Punk, just to name a few. Previous to Magnum PR, SiouxZ was the proprietor of Formula PR which was one of the first independent U.S. electronic /dance music-oriented PR firms. She attributes her success to running her business on passion, noting that every client she has ever worked with she wholeheartedly believes in, and dancing like nobody's watching.