While it's no secret that women are underrepresented in the Music Industry; Female leadership has proven to be an imperative factor for the success of the Electronic Dance scene. Women of The Disco is an initiative to highlight some of those powerhouses who are trailblazing the path and shaping the future of EDM.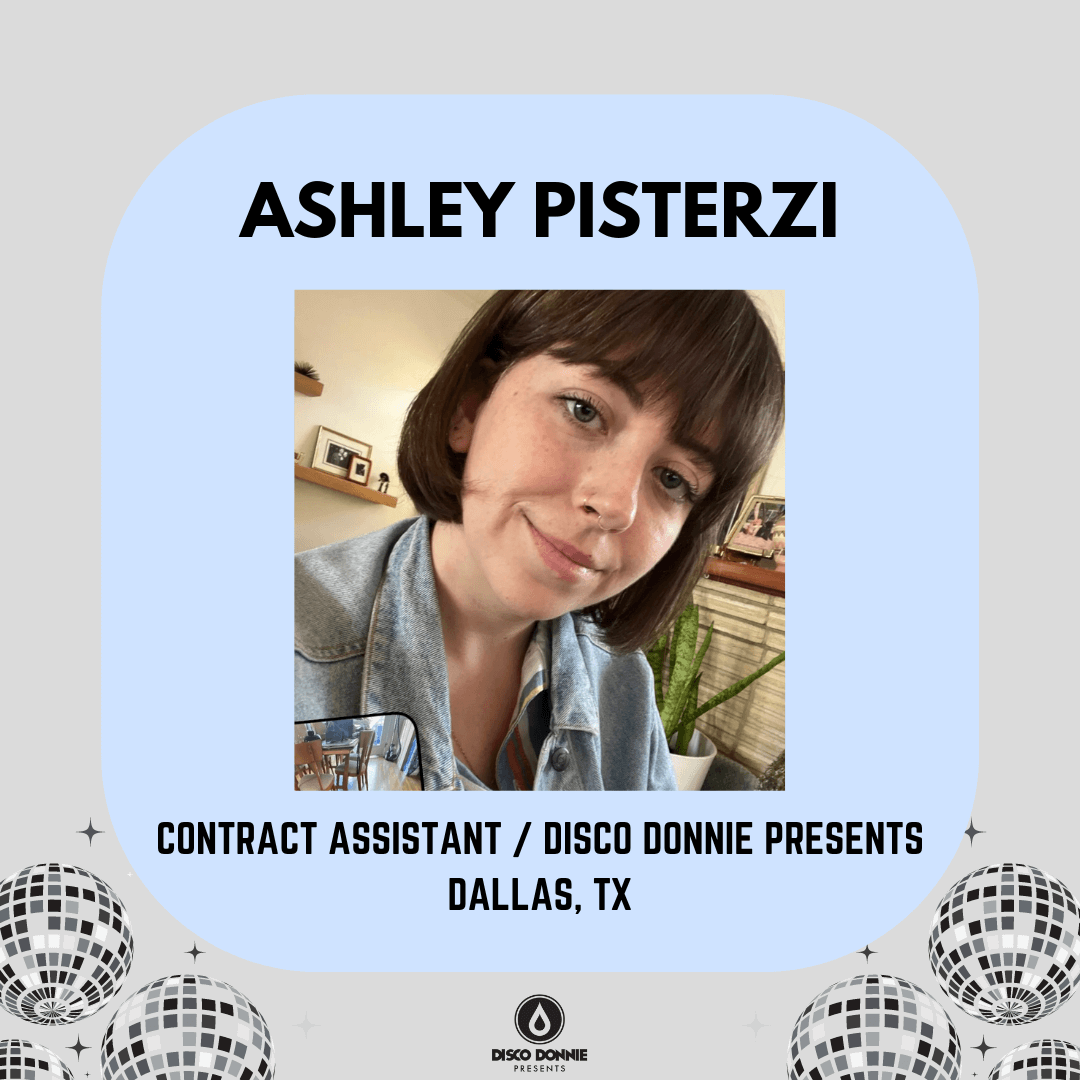 Ashley Pisterzi
Ashley got her start in the music industry in 2012 when she entered a music organization at Texas A&M (whoop!). Shortly after her first semester, she began an internship at the Grand Stafford Theatre in Bryan, Texas. It was there that she started spending almost every weekend at the venue, taking photos, working the door, and even coordinating shows with day-time, campus events as an executive member of the music organization. The summer after college, she toured each weekend as a merch manager with a country music artist. That Fall, she moved to Dallas and began searching for her new home. She found it at The Prophet Bar in Deep Ellum while working at Third String Productions as an assistant to a talent buyer. She spent the next few years traveling between Houston, Austin, and back home to Dallas while taking a hands-on approach to learning what it takes to manage a show. At the end of 2018 she began a new position, assisting a Senior Talent Buyer at AEG.
For the last year, Ashley has been working as a Contract Assistant at Disco Donnie Productions, where she processes and manages artist contracts. She lives in Dallas with her husband and three dogs.
Advice: Always be learning.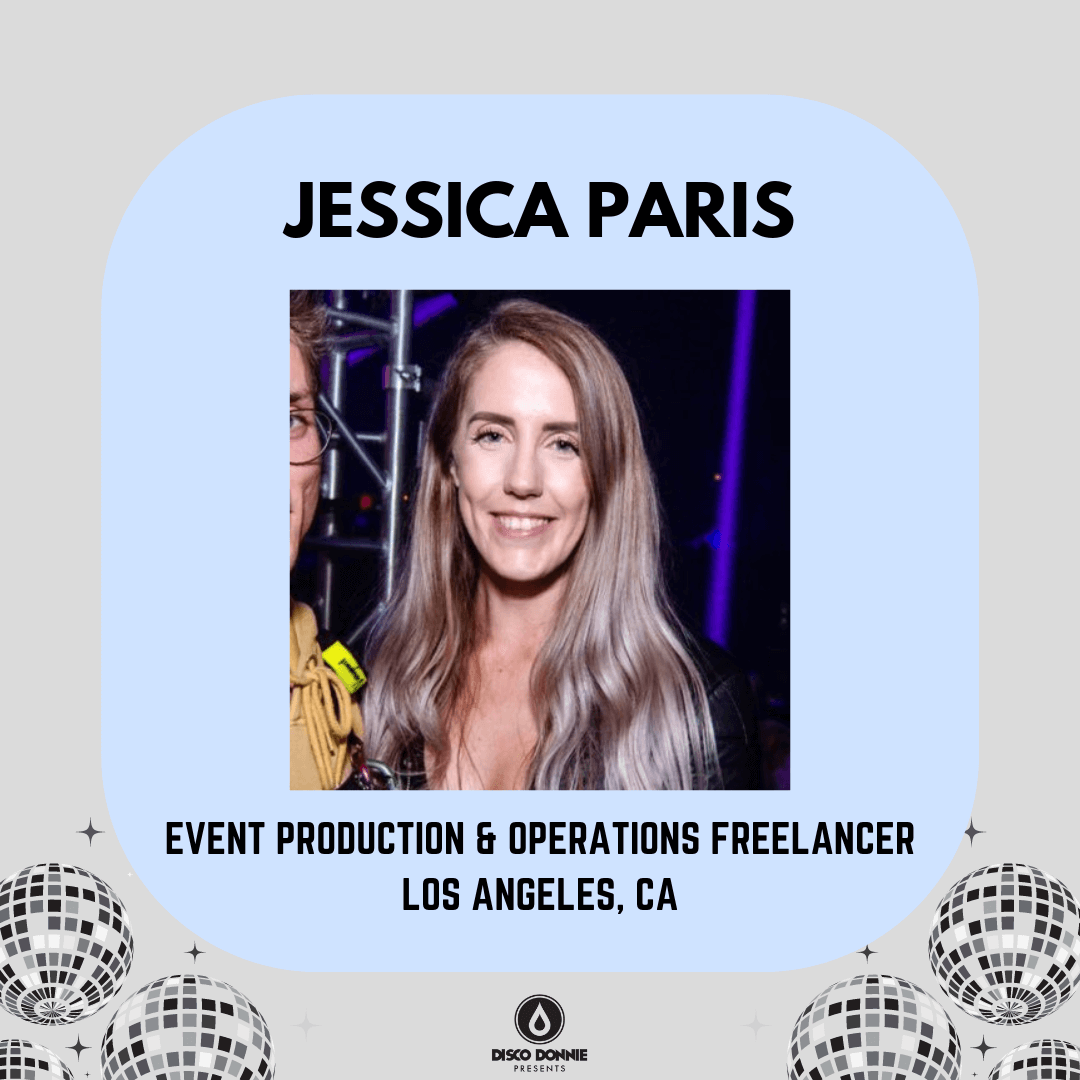 Jessica Paris
Jessica started out by promoting for her local nightclub back in her hometown of Jacksonville, FL. From there, she began volunteering her time by taking care of the artists that were being brought in to perform, which turned out to be her introduction to the world of Artist Relations and Hospitality. Finally, Jessica got her first paying gig working Ultra Music Festival in Miami back in 2018 which opened the door to her getting brought on to work festivals. Once Jessica had a glance into the world of festival production and operations, she was completely hooked and knew that that world was the one she was meant to be in. Now Jess can say that she's worked for a number of different departments ranging from Site Operations to Accreditation/Credentials to Artist Relations/Hospitality, and she has even been able to work on award shows here in LA as well as the Super Bowl back in 2022. Jessica has been lucky to be able to expand her experience to include work outside of just the festival world especially since moving out here to LA and she loves the challenge of learning and mastering a new role/department!
As a freelancer, Jessica's day to day varies greatly and she can honestly say that's a huge part of what she loves so much about what she does. Jessica gets to travel the country working different events and meeting new people constantly. When she is home in LA, she spends a lot of time focusing on her mental health and well-being in order to best prepare herself for on-site life since things can be crazy! But the energy and craziness is truly what she loves.
Jessica has always tried her best to be as much of a sponge for knowledge as she can be when on-site. She's been extremely lucky to have been able to learn from some of the best in the business, including many strong, fierce women. There isn't a single role that Jessica wouldn't be willing to tackle and learn, and her willingness to learn and try new things has taken her far.
Advice: Don't listen to what anybody has to say that doesn't support you. Follow your heart, don't compromise what you know is right, and just keep on pushing on because nobody is going to push for you.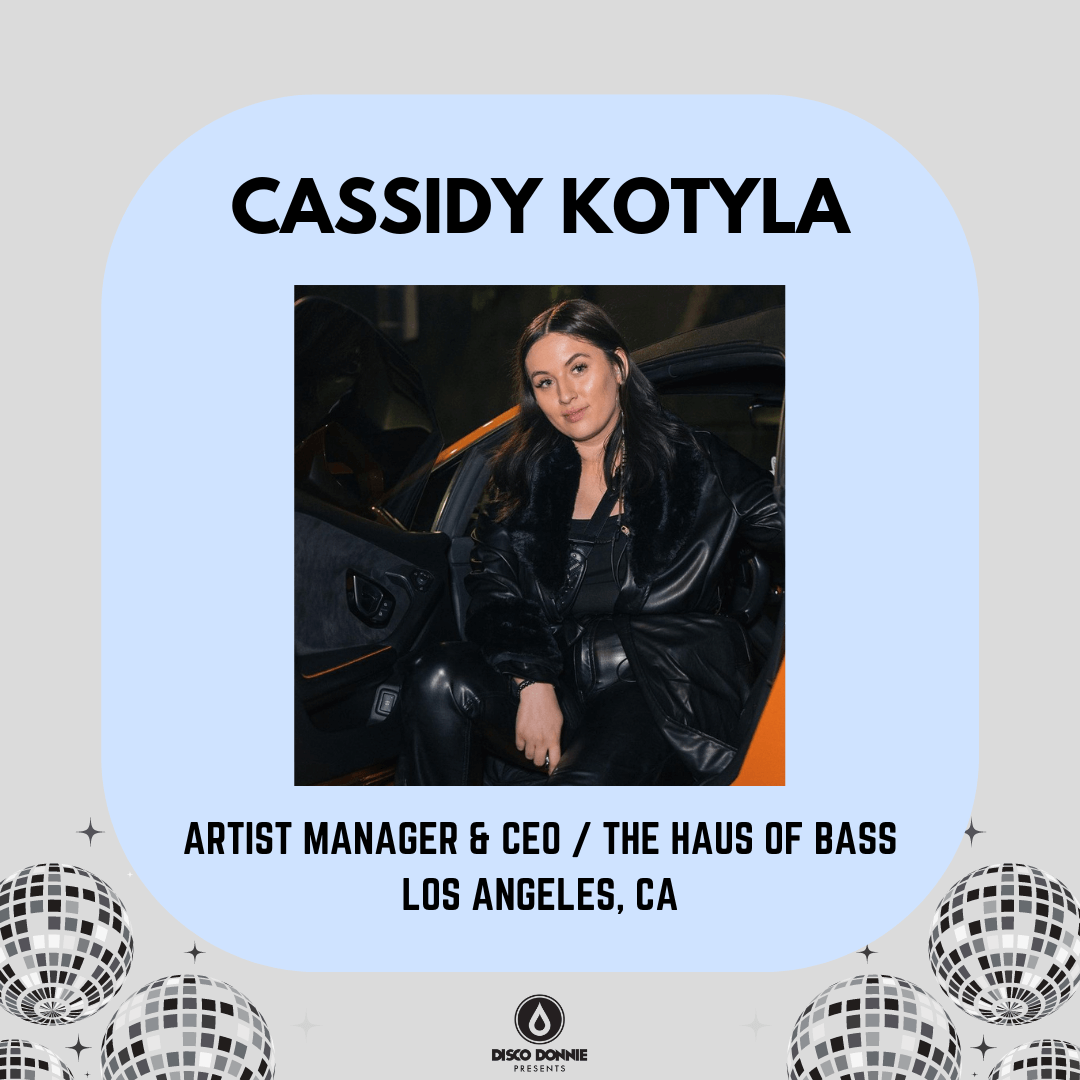 Cassidy Kotyla
Cassidy owns a company called Haus of Bass that exists as both a management company and marketing agency — She gets to work with brands, artists and creators whose sole purpose is to make people happy, so in turn that makes her pretty happy. Some of Cassidy's management clients include The Never Ending Fall, Soltan, MADGRRL and Saint Punk, and her marketing/brand partnership clients range from Ravealation to Cheat Codes to Brandi Cyrus to The Guess Who and many more.
No day is the same and with just getting back from a two month long world tour (go Soltan), Cassidy finds herself traveling often and getting to meet incredible people along the way. She originally went to school for Journalism at UMass Amherst, became a reporter in order to get admission to festivals, then fell in love with marketing and photography amidst sneaking out of school on the weekends. Because she was under 21 in college, Cassidy would volunteer to shoot the 18+ rock shows. Within a few years, she found herself knee-deep in promoting electronic shows in Boston, learning the art behind being a good manager, and falling in love with the stage more and more. Now, she is proud to say it's fully consumed her life – which is wild, considering she grew up in an immigrant family that required her attendance back at home before sundown. And those foam n' glow parties? Forget about it. Now, Cassidy's days are consumed by Facetiming her mother in Thailand on tour, asking her mom to remain calm and check Cassidy;s Apple location whereabouts, as mothers require these days. She wears black, constantly, and gets to spend her days employing brilliant people who could probably lead this entire country. Simply put, Cassidy has the best job in the world, but it took a lot to get here.
Advice: If you want to be a CEO, an artist manager or marketing manager one day, Cassidy firmly suggests you find a mentor that will teach you things you'll never be able to learn in university. Take the gamble and move to LA, NYC, anywhere that will give you that opportunity. Take the job where you get coffee for CEOs. Be the intern who sends ticket counts. Because one day, you'll look back at that experience and it'll be your turn to hire that intern, and you'll hope you can give them the same experience (if not better) than the one you got. This is a very small industry at the end of the day, and when we leave, we want to make it a better place than when we started. If you're a woman, be ready to send 3x more emails with 5x more no's as a response, be left wondering your place in the room for years, and understand that we're living in an ever-changing world, so try not to hate the process too much. Enjoy the fact that you work in the best industry, well, ever, and turn your memories, feelings and passion and put them into songs, shows and hope for artists.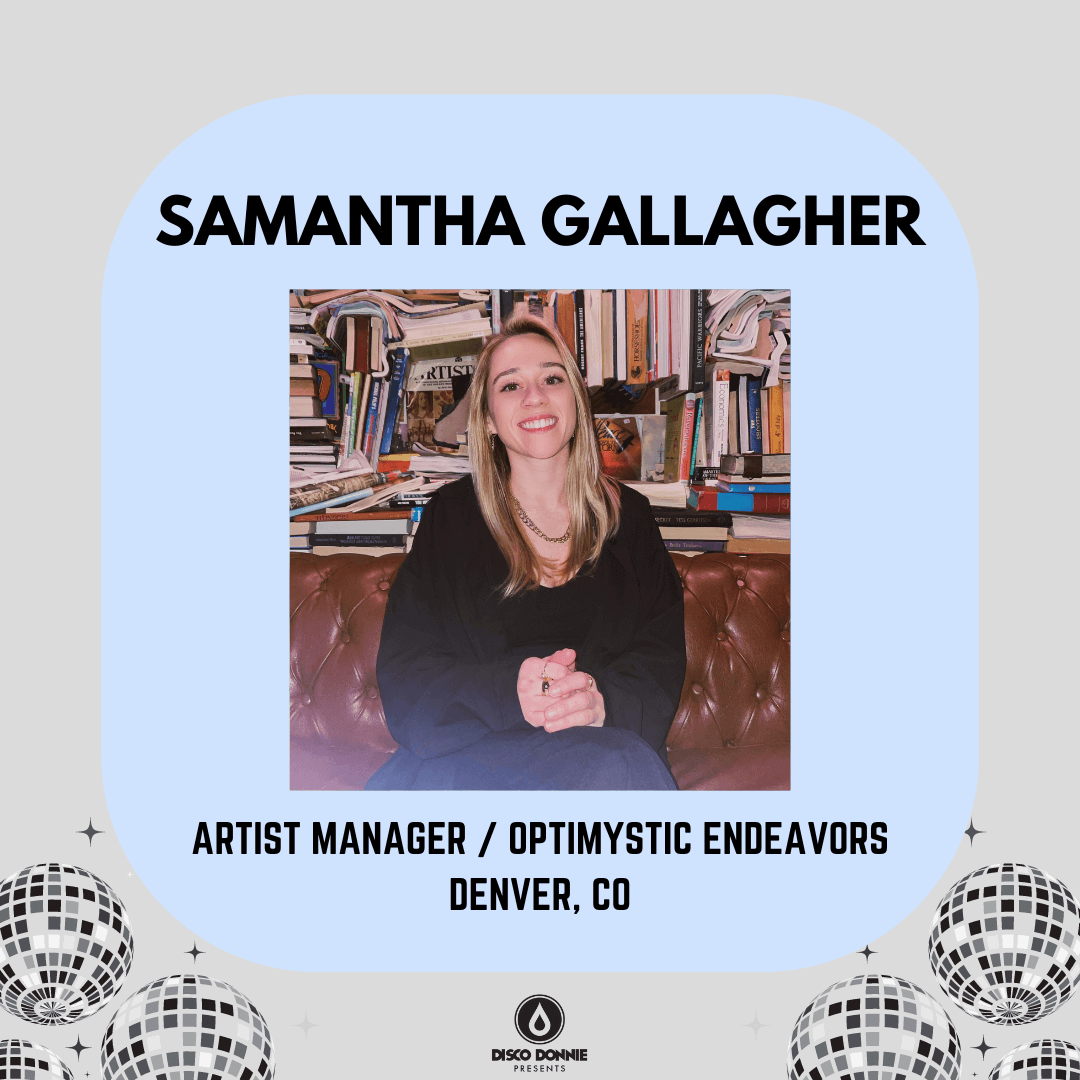 Samantha Gallagher
Formerly from the East Coast but currently residing in Denver, CO, Sam Gallagher has continued to warrant her position in nearly every avenue of the music industry. Boasting experience at renowned firms such as C3 Management working for The Strokes, Live Nation, Universal Music Group, and Paradigm Talent Agency alongside power-house agent Cody Chapman, Gallagher has mastered a number of skill sets, ranging between signature agency trades, social media and tour marketing, venue operations, and live production itself.
After facing a setback due to major corporate layoffs during the pandemic in 2020, Sam transformed a hardship into an opportunity for expansion. Discovering a strong enthusiasm for longterm artist development throughout her career, she capitalized on her widespread knowledge to transition to a role with countless duties, now reigning the title of Artist Manager at independent management entity Optimystic Endeavors. Already attracting a roster of accomplished and diverse acts including Ravenscoon, Tripp St., VEIL, HEYZ, pronouncedyea, and Sharlitz Web, Sam is surrounded by a tight-knit team built of women and her mentor Loper. Dedicating herself to protecting the best interest and free creative will of her artists at all times; she nurtures their passions day in and out, executing their artistic visions as intended.
Setting the standard of what management should look like as she advances in her own forward course, Sam proves herself capable of moving mountains and a clear role model for any woman with their sights set on the music field.
Advice: "If you're just starting out and don't know where to begin, do anything. Even the smallest of jobs will help you meet people in the industry and that could lead to bigger opportunities. Work hard but work smart, pay close attention to detail, find passion in whatever you're doing, and double down on yourself to learn new skills. Always strive to gain more knowledge, even in things not directly related to your role. Be open-minded, well-rounded, and be someone that others not only enjoy being around, but desire to be around."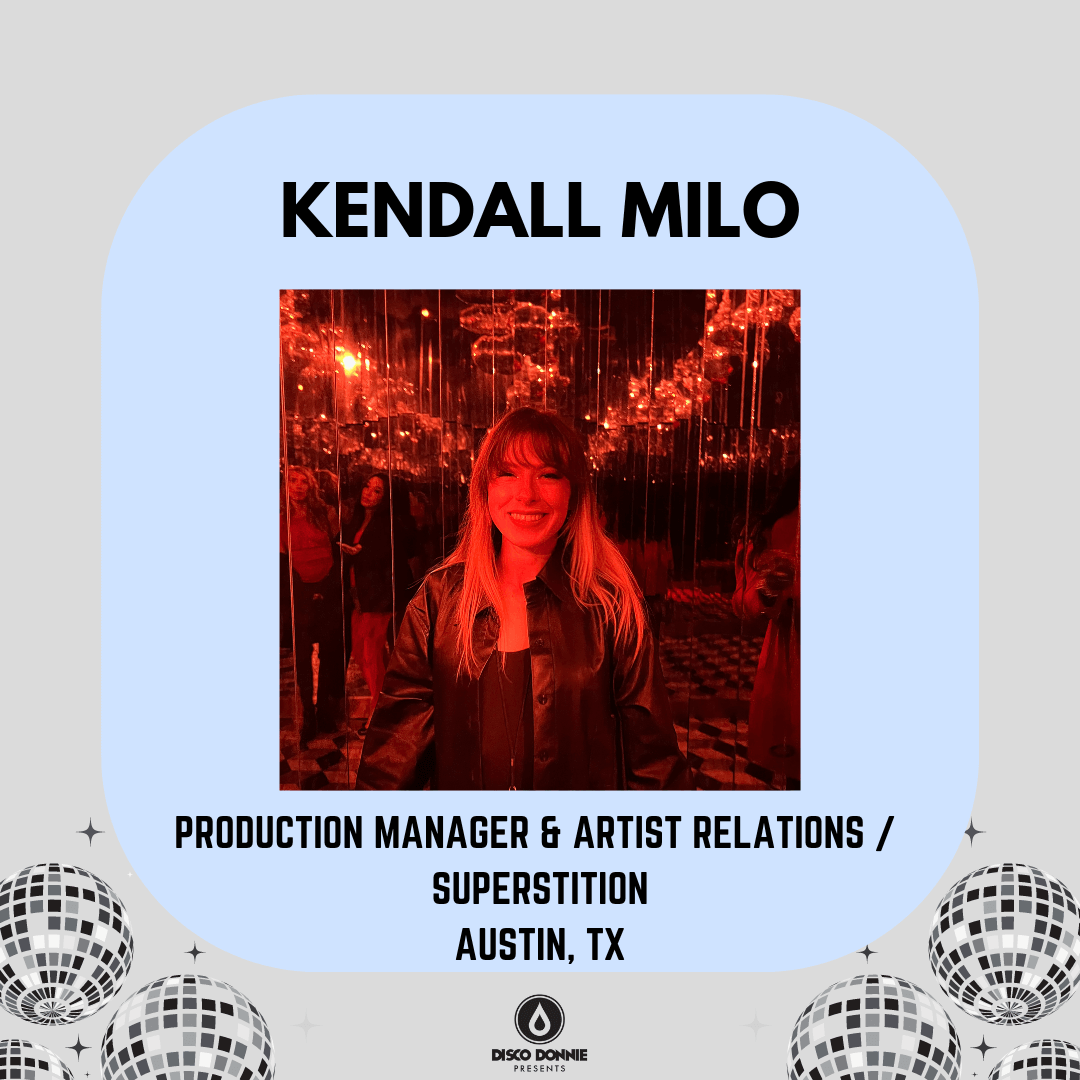 Kendall Milo
As an avid music fan (girl) since the days of Bieber Fever, Kendall's love for live music and artists took a new shape when she started listening to EDM. Kendall became passionate about the community and attended festivals and concerts throughout high school, it kept her going during tough times and created some of her best. She made lots of friends and connections with like-minded people online which led her to have an opportunity to tour with the Excision team selling merch. This opened up Kendall's desire to find new avenues in the music industry to eventually make this a full-time career. She held artist hospitality, merchandise management, and admin assistant positions at various festivals over the years including; Electric Forest, Dirtybird CampINN, Gridlife, and more. Then, Chad Verway, the Marketing Director, assistant talent buyer, and her mentor, hired Kendall at The Intersection venue in Grand Rapids, MI as the Marketing Assistant, Artist Hospitality Manager, & Street Team Leader. When the venue closed during the pandemic, Kendall pivoted to a marketing position with Friends of Friends agency. She worked her way up to a Marketing Director position and was leading the campaigns of multiple national events and businesses.
Going into 2023, she pivoted back to her love for live events, moving to Austin, TX to accept a Production Manager position with NoCo Hospitality group, leading their production and artist relations at Superstition, Austin's newest nightclub. Kendall's daily responsibilities include coordinating with artist teams to advance ahead of their play at the venue and coordinating with our production and venue team to ensure the day of show runs perfectly. Using her marketing background to assist with artist and venue marketing, as well as assisting in booking local talent, programming for the nightclub, and other NoCo properties. She decorates and supplies the green room with artist needs, as well as stage managing night of shows and ensuring night goes smoothly.
"There is nothing more important than staying true to yourself and treating others with kindness." Kendall has found that being yourself, compassionate, and understanding goes a long way, not only professionally but in all assets of life. "Making others feel understood and being easy to work with allows for collaboration to be successful and fulfilling."
Advice: "The music industry can be cutthroat and crazy at times, but staying grounded in your passion and reason for working so hard will keep you going. With determination, compassion, and kindness, your dreams can become a reality! I encourage any and all women who are interested in the world of music to give it a shot. We always need more ladies around and my messages are always open to any and all that are looking for advice."