While it's no secret that women are underrepresented in the Music Industry; Female leadership has proven to be an imperative factor for the success of the Electronic Dance scene. Women of The Disco is an initiative to highlight some of those powerhouses who are trailblazing the path and shaping the future of EDM.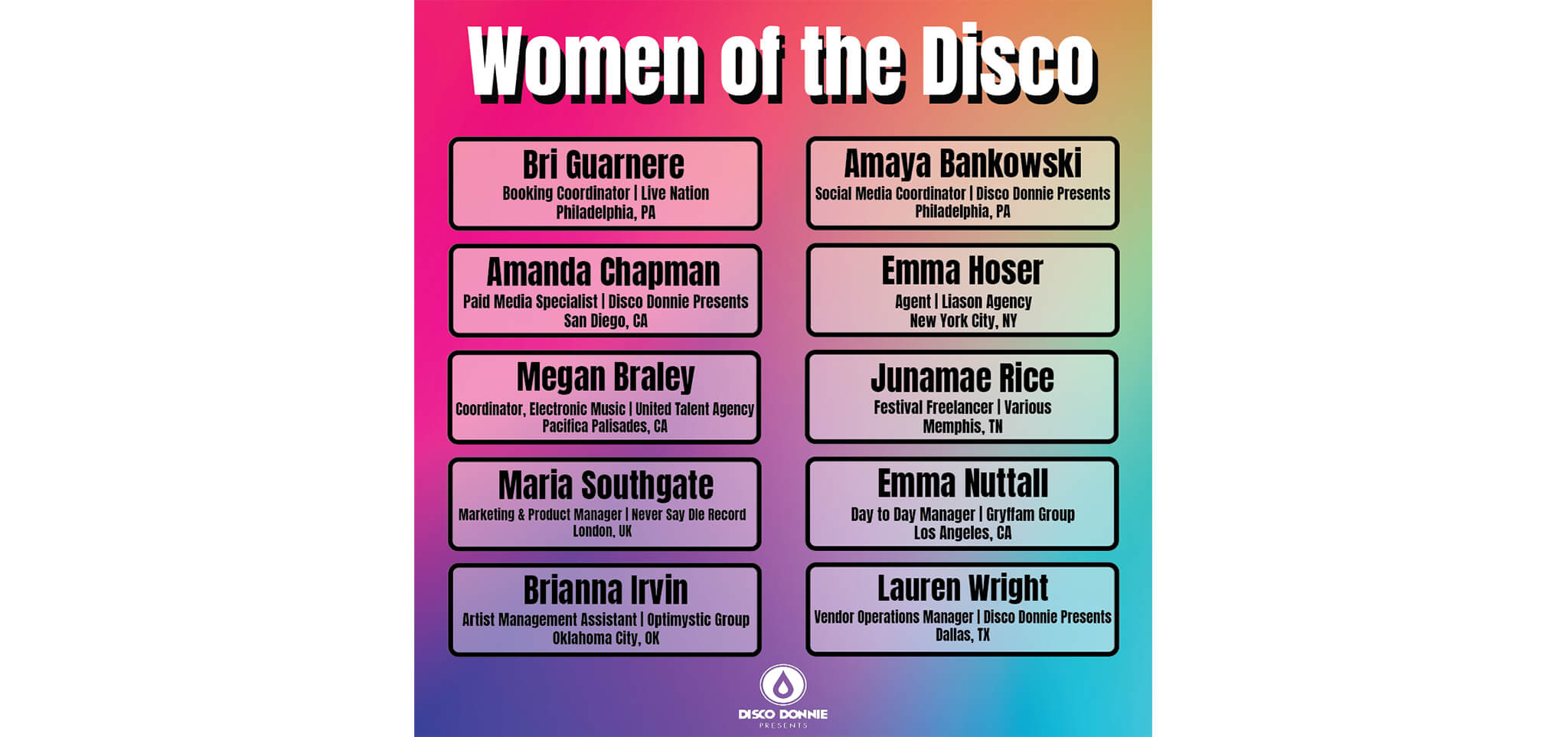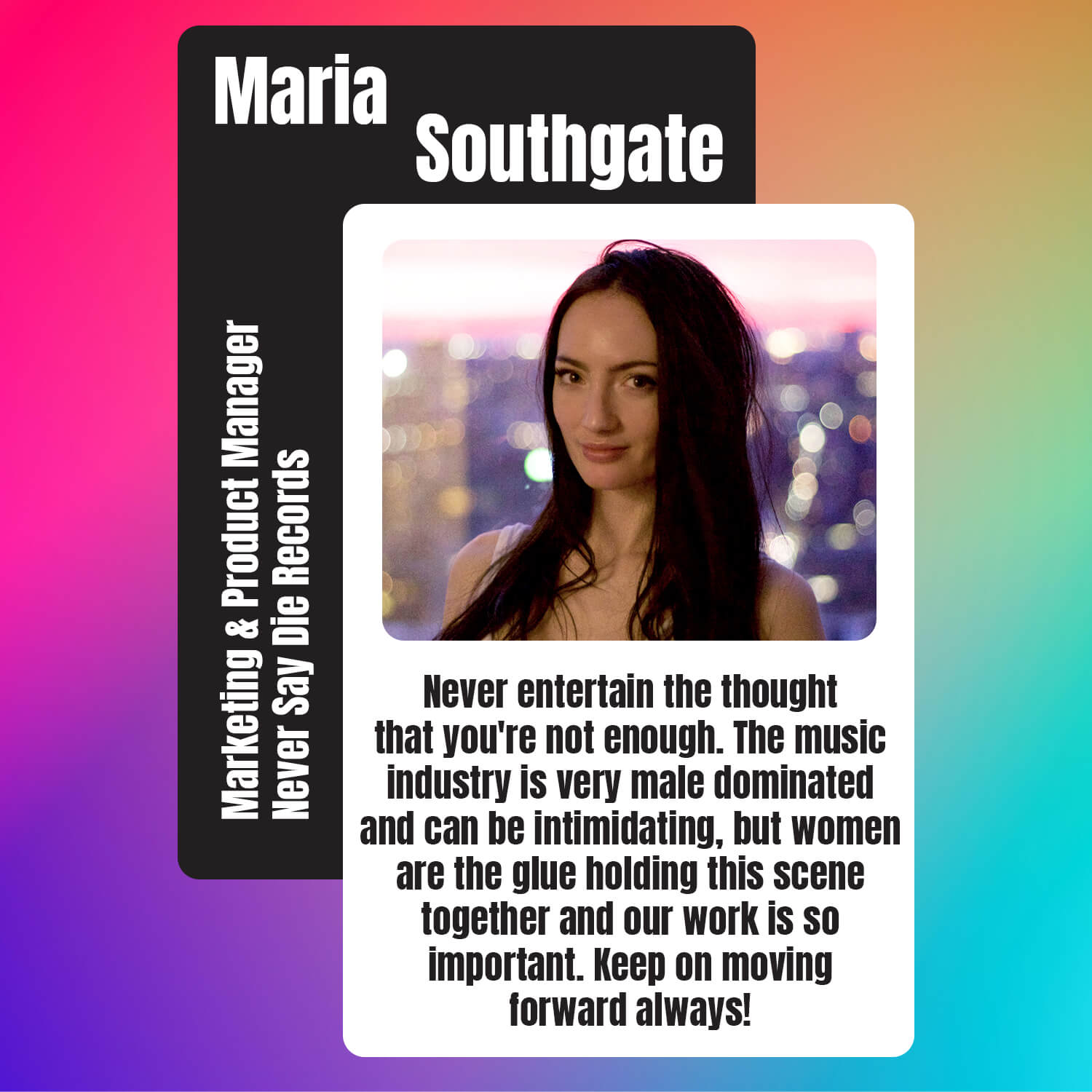 Maria Southgate
Marketing & Product Manager | Bensley / The Industry Standard
Maria got her start in the music industry working in PR and marketing, spearheading press campaigns for artists across the full spectrum of dance music. Initially, Maria worked as a Press Assistant for Drum & Bass record label Viper Recordings, before joining music PR agency Infectious PR. She then moved on to a Marketing Manager position at Never Say Die Records.
Maria's current day to day responsibilities include overseeing the marketing strategy for Never Say Die Records, as well as Product Management for all releases. It's her job to keep the promo ball rolling and to plan all roll outs and marketing activities. Maria makes sure that releases are pitched and assets are delivered on time, as well as liaising directly with artists, managers, press, curators, marketing partners and more. Additionally, she manages electronic act Bensley and works day-to-day on the roster of Industry Standard management acts including Zomboy, MUST DIE! and Space Laces.
Some attributes that have helped Maria find success within this profession are being extremely driven and focused in her work and holding herself to high standards. She always has the artist's best interests at heart and invests a lot of time into making sure the artist's vision is executed fully and effectively.
Advice for others: "Never entertain the thought that you're not enough. The music industry is very male dominated and can be intimidating, but women are the glue holding this scene together and our work is so important. Keep on moving forward always!"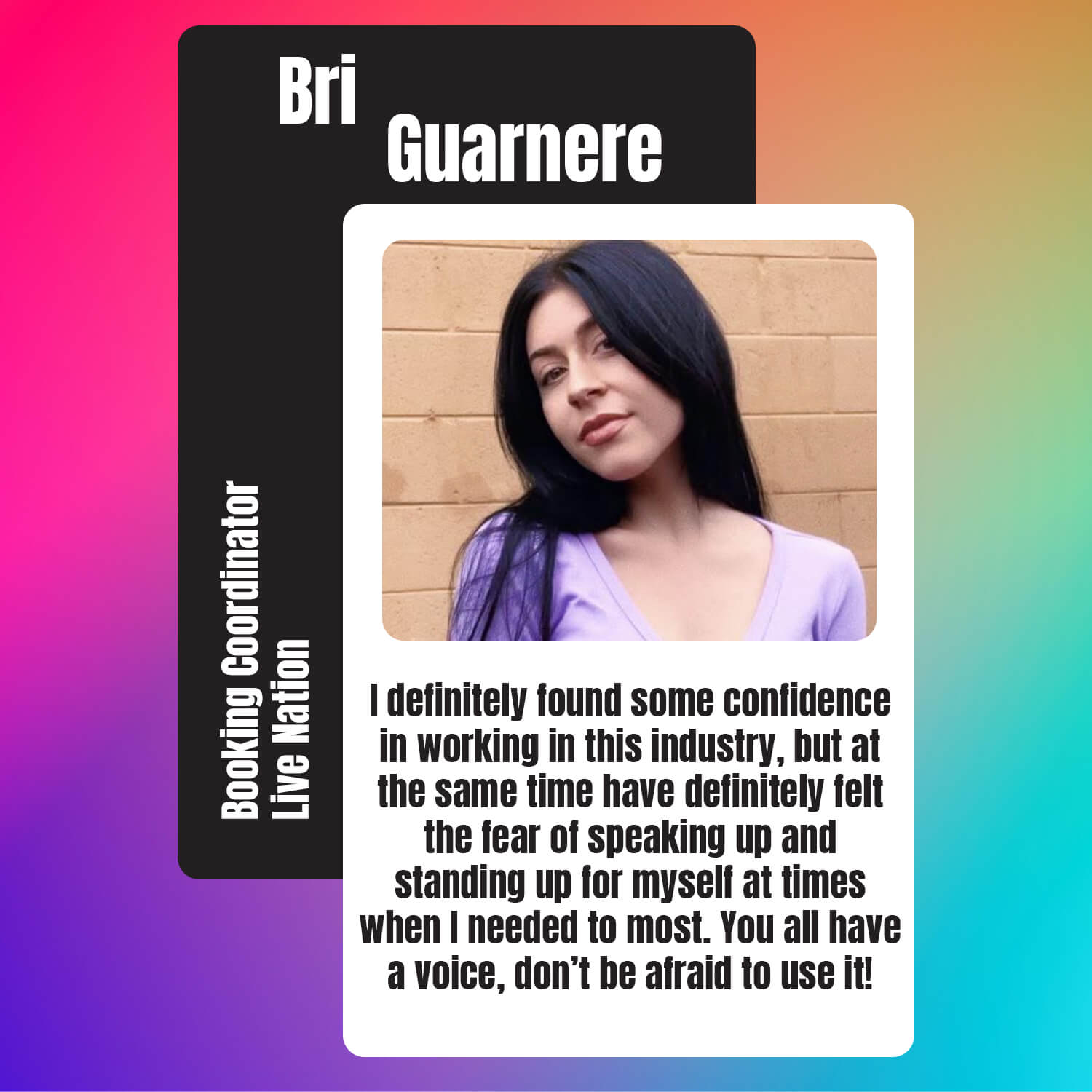 Bri Guarnere
Booking Coordinator | Live Nation
Throwing it back to her middle school days, Bri used to have her parents take her to all the alternative/pop-punk shows to ever exist on South Street in Philly. Bri quickly realized from basically living at these venues as a teen, that she could find a way to turn her love for music into a lifelong career. A few years later, Bri went to Temple University in Philly to study the media & music business and saw a marketing internship posting at Live Nation one day. She took a risk and applied thinking she just would never hear back. Luckily, they gave Bri a chance and she began interning there her junior year of college (shout out to the one who believed in her from the start, Dave Niedbalski). After she graduated, Bri was offered a full-time job processing all artist contracts and venue agreements, really learning the ins & outs of the deals behind the scenes. From there, Bri took an interest in the booking world and is currently a booking coordinator supporting multiple talent buyers across their 10+ venues in the Philly area / surrounding regions around PA and NJ.
Aside from managing show bookings at all Live Nation venues, she also assists in producing a couple festivals in the region such as Camp Bisco and HiJinx. Having the opportunity to work closely on festival bookings and operations, it really opened Bri up to the EDM world. She actually spends a lot of her free time traveling to other festivals, not even produced by LN, to just experience the way other promoters run their events and understand more about the scene. Bri has met some of the best people at these events and has gained more love for the scene with each experience. One of her coolest achievements was being a part of the team that launched, named, and branded their annual end of the year HiJinx festival that takes place in the convention center right on Broad Street. Bri's passion and love for any kind of music has helped her find success in her career this far. This is definitely a passion based industry and finding like-minded and supportive colleagues, both at LN and from the connections Bri has made with others at shows and festivals around the country, has kept her going.
Some advice for other women in this field is actually from one of Philly's very own queen, P!NK – "you can't move mountains by whispering at them." "This is something that has stuck with me for a while, and something I am constantly reminding myself with. I definitely found some confidence in working in this industry, but at the same time have definitely felt the fear of speaking up and standing up for myself at times when I needed to most. You all have a voice, don't be afraid to use it!"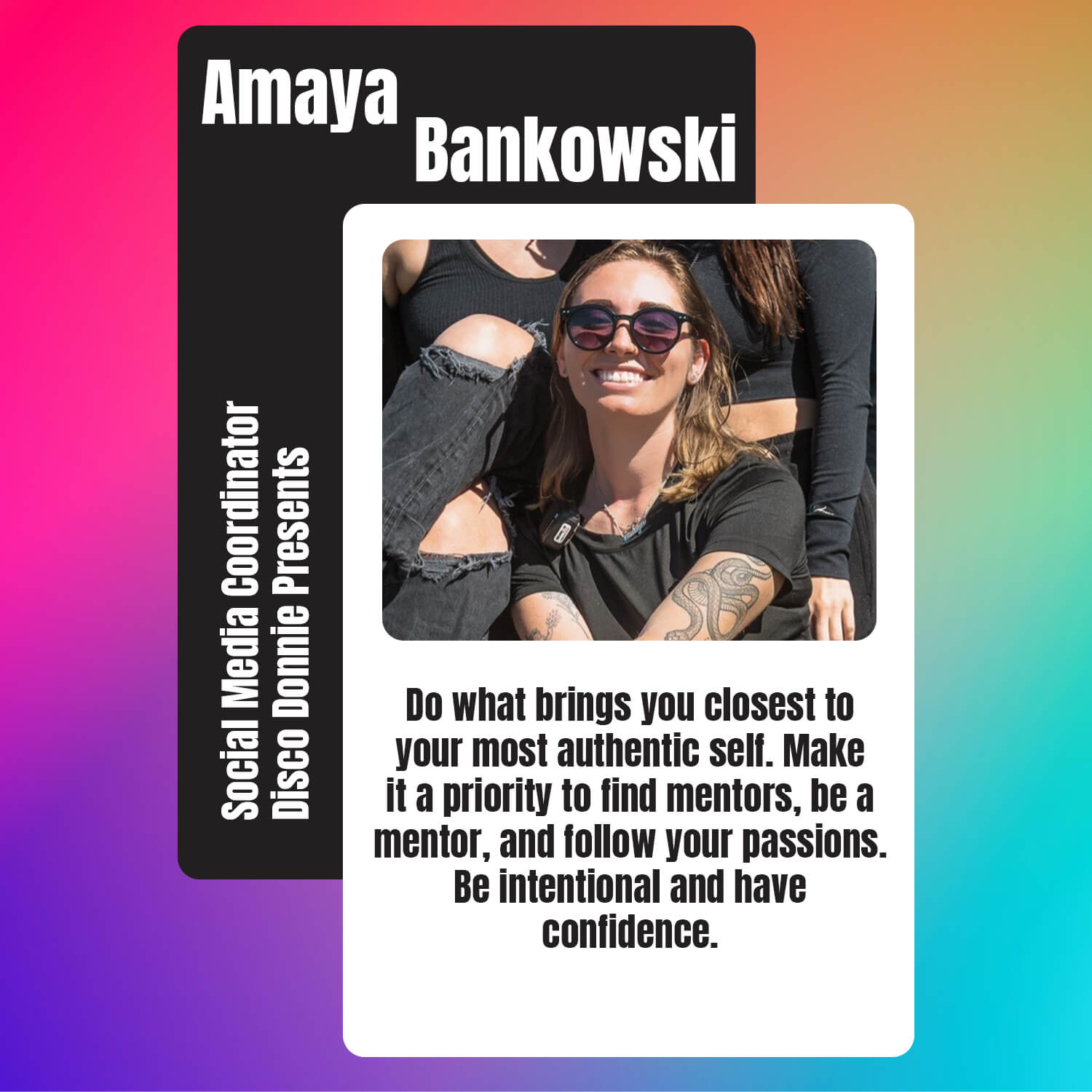 Amaya Bankowski
Social Media Coordinator | Philadelphia, PA
A music lover through and through, Amaya began playing multiple instruments at a very young age which is where her passion for creativity first took off. At 19, she was hired as a music blogger at a local radio station in Philadelphia, while attending college at Temple University. Quickly, she knew the music industry was her home. Amaya has always been drawn to electronic music because of the way it connects, inspires, and influences people to find their personal happiness without boundaries. Amaya began working at Universal Music Group in 2021 as a digital marketing assistant and discovered how much she enjoys the content / social side of marketing, communicating with fans and focusing on branding is where she thrives. In the summer of 2021, Amaya was hired as the Social Media Coordinator for Disco Donnie Presents, becoming one of the members of their first in house marketing team as she entered her final year of college. She is graduating from Temple University with a Bachelors in Advertising this May. Amaya wants to continue to follow where her passion leads, and inspire others to do the same for themselves. In her free time, she still enjoys playing instruments and creating art across all mediums.
Advice for others: "Finding your identity and sense of self is a never ending journey (I mean that in a positive way!). Do what brings you closest to your most authentic self. Make it a priority to find mentors, be a mentor, and follow your passions. Remember that mistakes are not the end of the world and everyone makes them. Be intentional and have confidence."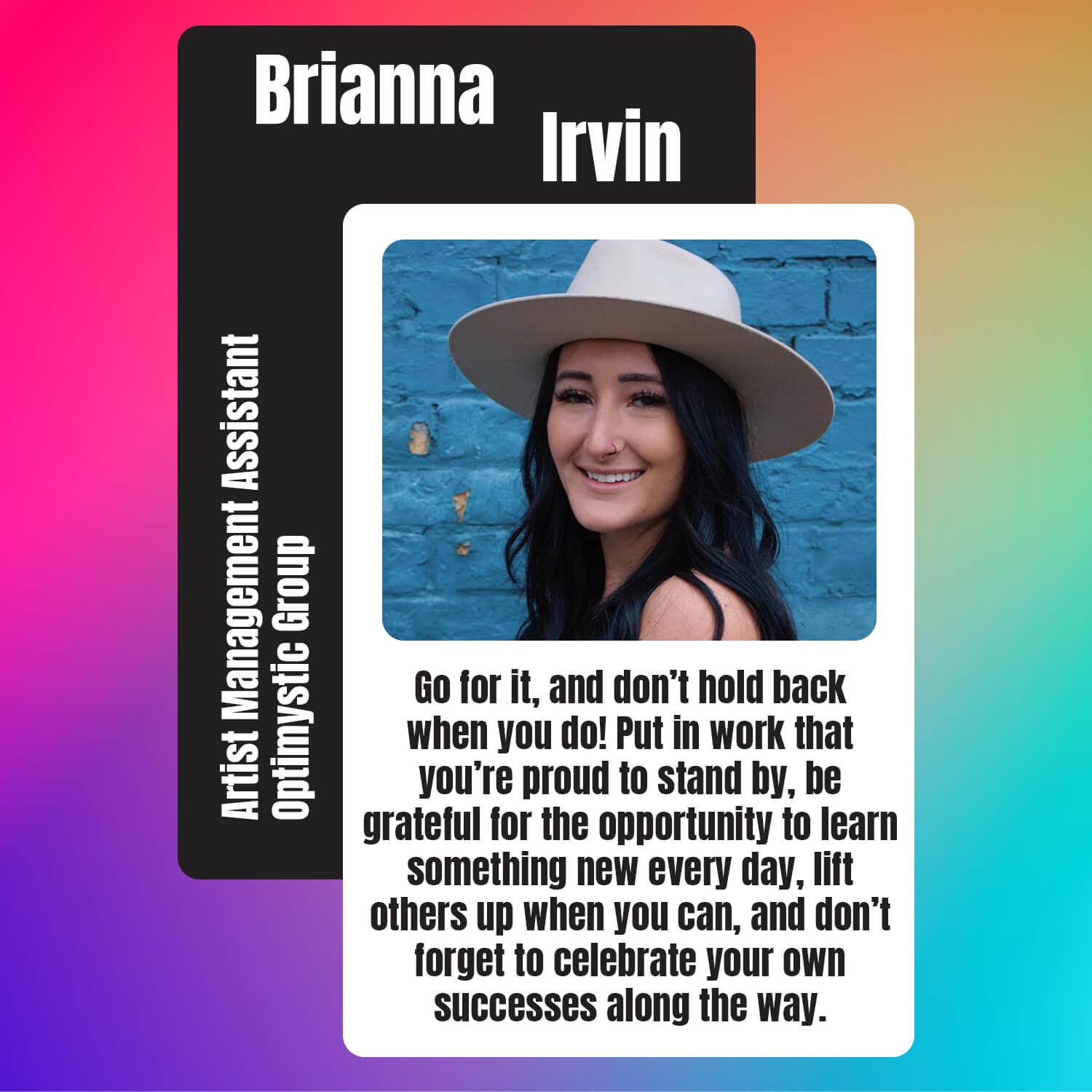 Brianna Irvin
Artist Management Assistant – Optimystic Group
A music enthusiast to her core, Brianna first got her start in the industry through joining her local street team, later going on to explore her freelance writing career as the editor-in-chief of popular music publication Electric Hawk. Brianna quickly found her interest and strength in long-term artist development, leading to her current position as an artist management assistant at Optimystic Group.
Working alongside reputable acts such as Liquid Stranger, Champagne Drip, TVBOO, Luzcid, MIZE, Tripp St., VEIL, Canabliss, and more, Brianna assists with day-to-day duties, including curating diverse and inclusive lineups, advancing shows and festivals, and coordinating marketing plans for releases. A role that wears many hats, she plans to continue pursuing her goal of full time management and helping cultivate a healthier, more empowering environment for artists, industry professionals, and fans alike."
Advice for others: "Go for it, and don't hold back when you do! Put in work that you're proud to stand by, be grateful for the opportunity to learn something new every day, lift others up when you can, and don't forget to celebrate your own successes along the way."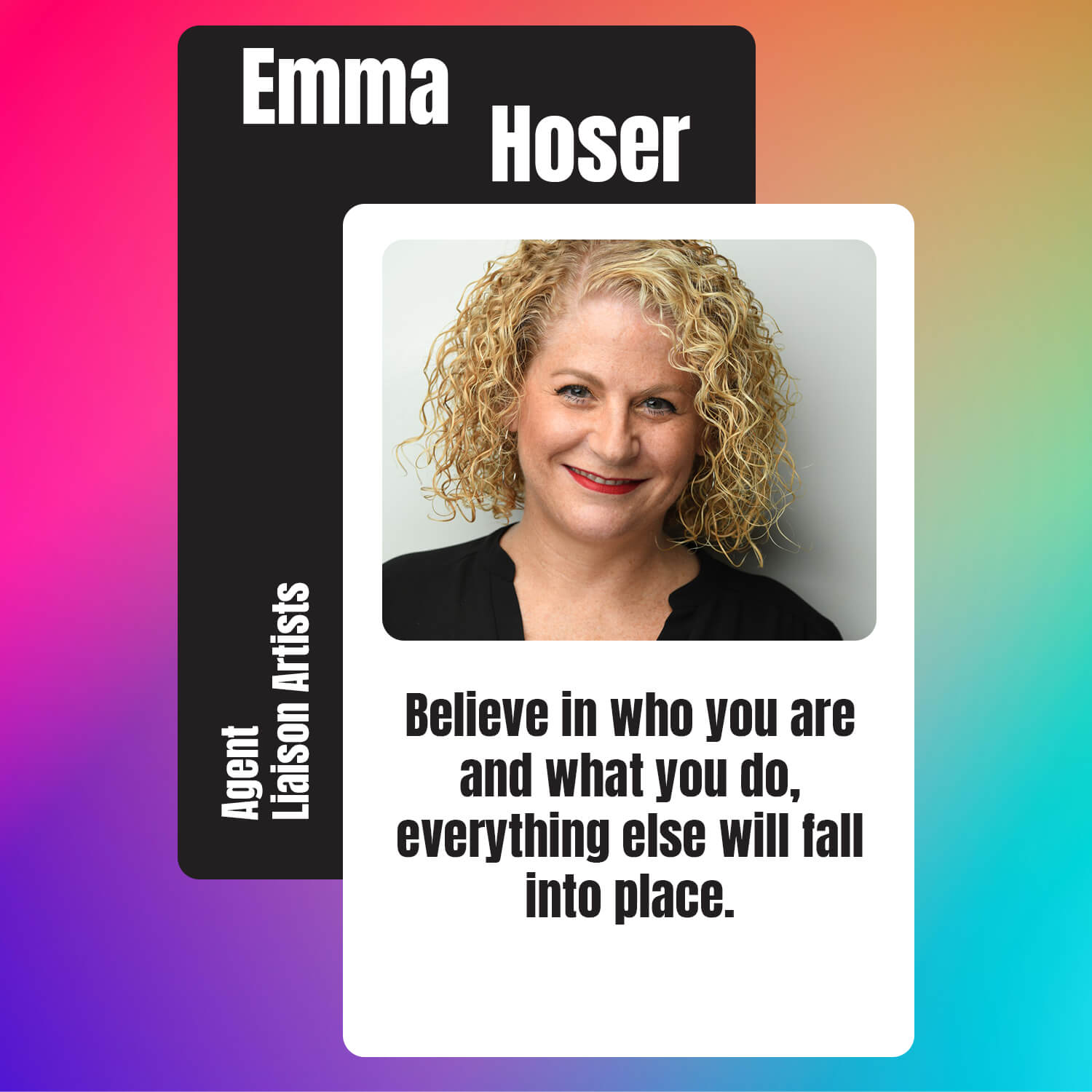 Emma Hoser
Agent – Liaison Artists
Emma Hoser is a New York-based electronic agent at Liaison Artists, representing a diverse roster of electronic DJs and producers with a heavy focus on the underground house and techno sound. Emma's roster includes clients Adam Beyer, Cirez D, Ben Böhmer, Nicole Moudaber, Jamie Jones, Patrick Topping and many more.
Emma volunteers as a mentor for young adults at local organizations including the Lower East Side Girls Club and The LGBTQI+ Center in NY and recently joined LVR Management for their amazing Mentoring Artist program online.
She began her journey in music as a club promoter in Florida during college. She later moved to San Francisco to finish her degree, and continued pursuing her love for music by selling mixtapes to stores all over the USA. Through these endeavors she met many DJs, promoters, and agents. Upon finishing college she moved to New York to start working in the agency business. After stints at several different agencies, she found her home in 2008 working for Paul Morris at AM Only. AM Only partnered with Paradigm in 2012 and fully merged into Paradigm in 2017. In 2020, she left Paradigm to work at Liaison Artists, an independent agency in the US and who specialize in cutting edge international talent with a laser focused personalized touch.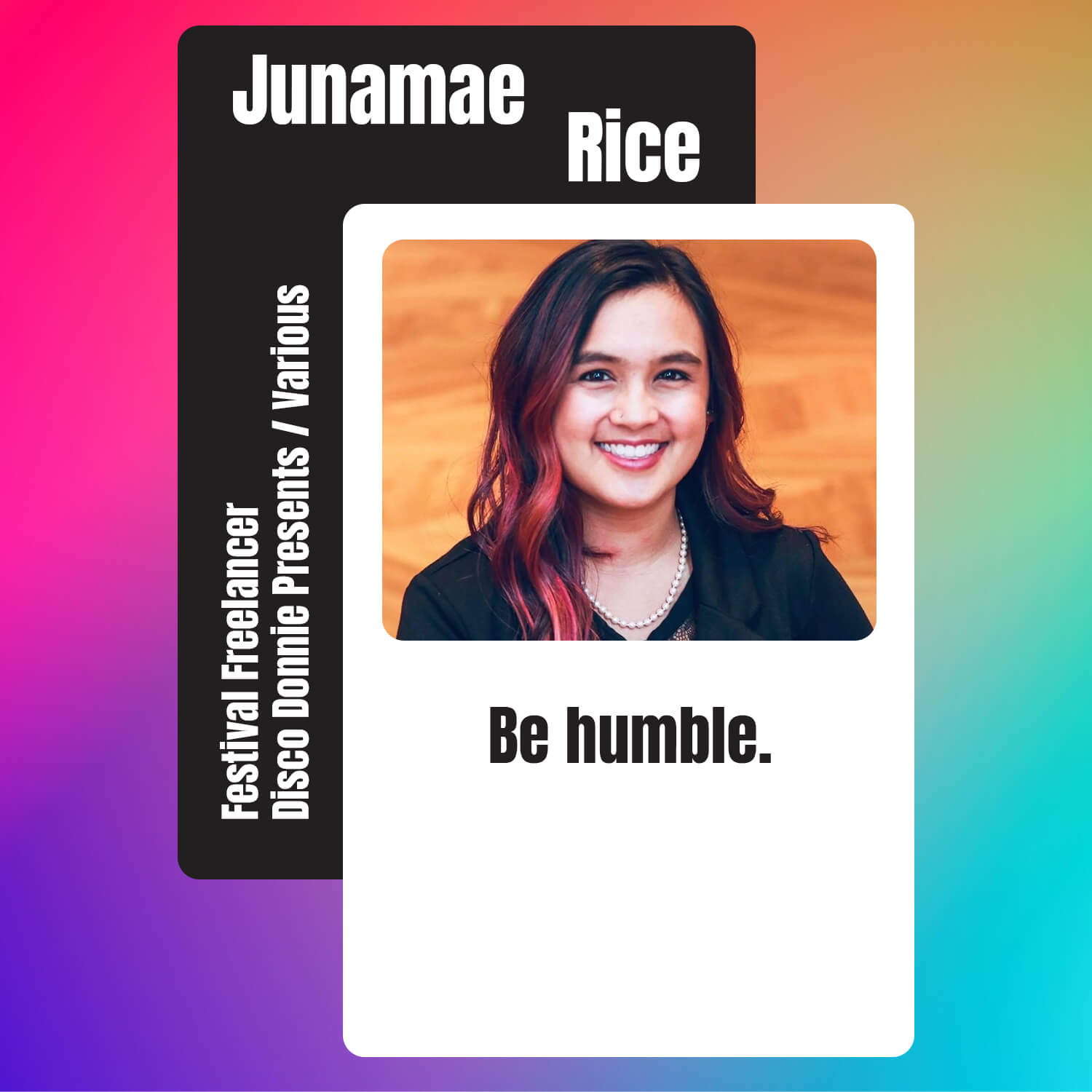 Junamae Rice
Festival Freelancer | Various
Junamae got her start around 2018 doing promotions for Disco Donnie Presents club shows in Nashville and slowly transitioned into the festival scene. Eventually she ended up with the DDP team again, working on our festivals! Junamae has carried the credentials role for the longest but recently switched over to the AR world. Junamae considers herself a pretty open person when it comes to work. She's had all kinds of jobs. Coming from different fields has given her the skills and opportunities to get her where she is now.
Advice for others: Be humble.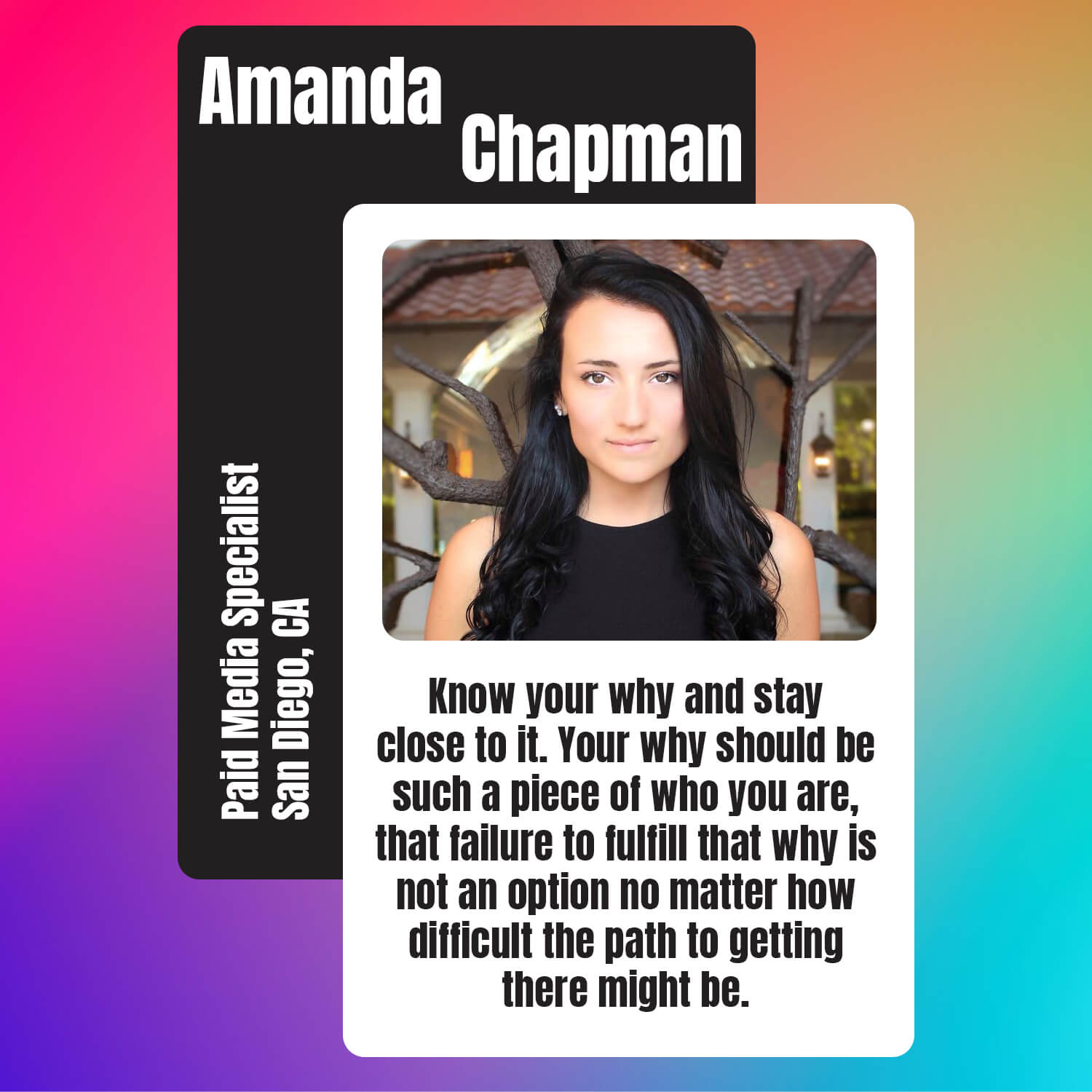 Amanda Chapman
Paid Media Specialist | San Diego, CA
Amanda's inspiration to work in music started at her first festival, EDC 2017. Her dad bought her for her 21st birthday and from that weekend forward she knew she was built to help bring music to life. She started out by taking photos for a magazine and helping smaller artists with social media and PR. Right after college, she moved to LA and gave up a teaching job in hopes to make music a full time gig. She started with an entry position at a digital marketing agency working in all avenues of music marketing. She discovered her passion for events and later took over her current role at DDP. Day to day, Amanda handles all paid marketing for Disco Donnie Presents. Disco has 1000+ club shows and festivals per year and she handles all of the digital advertising that comes along with it.
Essentially her job is to work with partners, artists and the internal marketing teams to make sure the shows sell out! Amanda wouldn't be where she is without the help of many other music industry professionals. She also attributes her success to high self motivation and work ethic. Her advice to other women is to "Know your 'why' and stay close to it. Your 'why' should be such a piece of who you are, that failure to fulfill that 'why' is not an option no matter how difficult the path to getting there might be."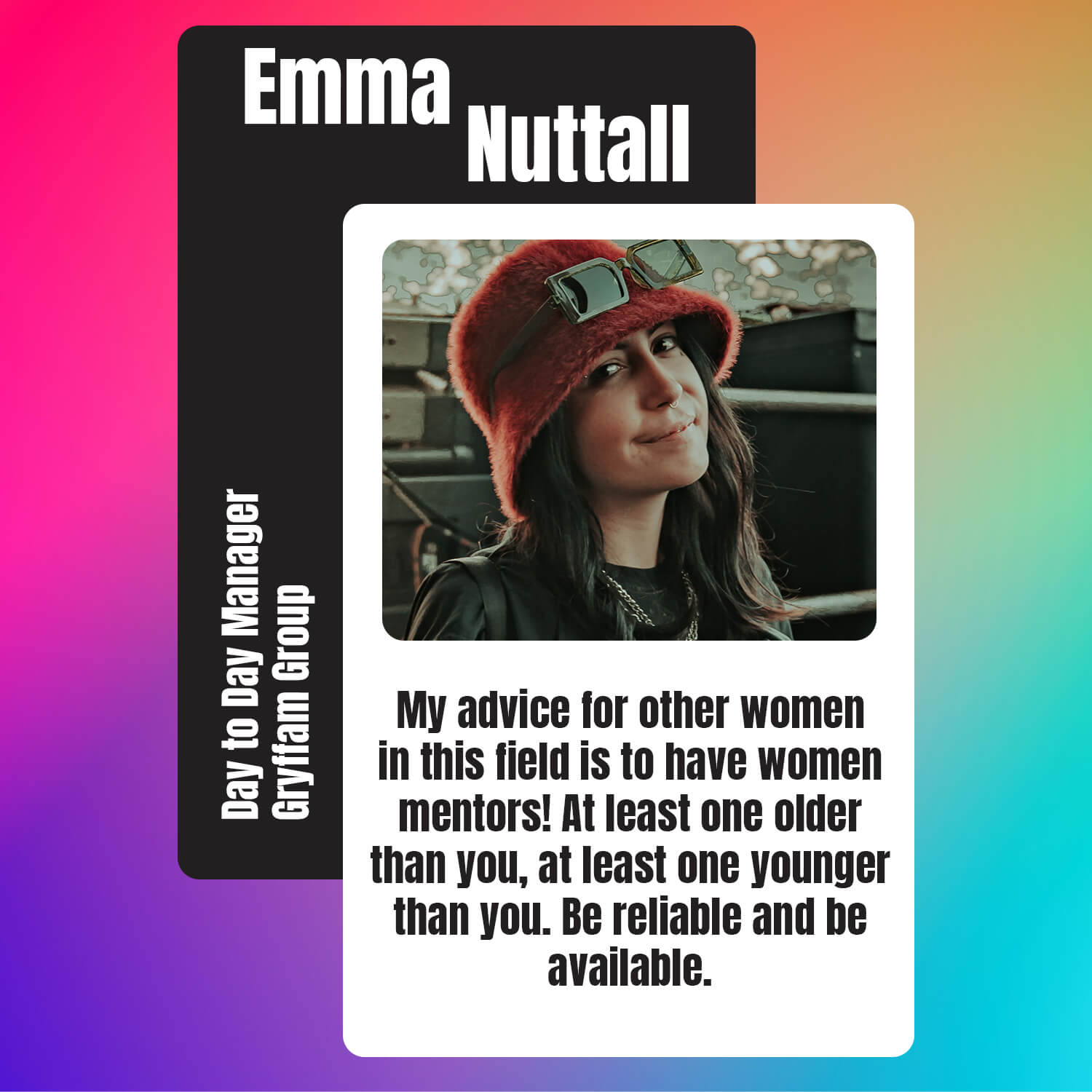 Emma Nuttall
Day to Day Manager | Gryffam Group
Emma is currently a day to day manager / assistant for a global electronic dance music artist (TheDarkroom/Interscope) at Gryffam Group. Emma grew up on house and techno music, so the electronic music scene has always been one for her. She got started in music as a marketing and press rep at °1824 under Universal Music Group for the last three years. During her time here, Emma landed UMG a partnership with Music Minds Matter, where individuals can become Mental Health First Aid certified and learn more about mental health in the music industry.
She also started as a brand ambassador for Live Nation and started the first ever EDM radio station at Temple University in Philadelphia. Over the last year, Emma has been doing freelance marketing and PR for independent artists and businesses as well as artist management for seven developing producers, DJs, and vocalists to build up her experience and skill set. Emma started as the advertising and social media coordinator in July of 2021 at Unlocked Presents where she assisted in all live shows at the venue, The Ave Live, in Philadelphia. Lastly, she is doing all of this while completing her final year of a Bachelor's degree in Business Management. Emma aspires to use her skills and passion to grow and make a positive effect on the music industry and have her own global festival one day!
Advice for others: "My advice for other women in this field is to have women mentors! At least one older than you, at least one younger than you. Be reliable and be available."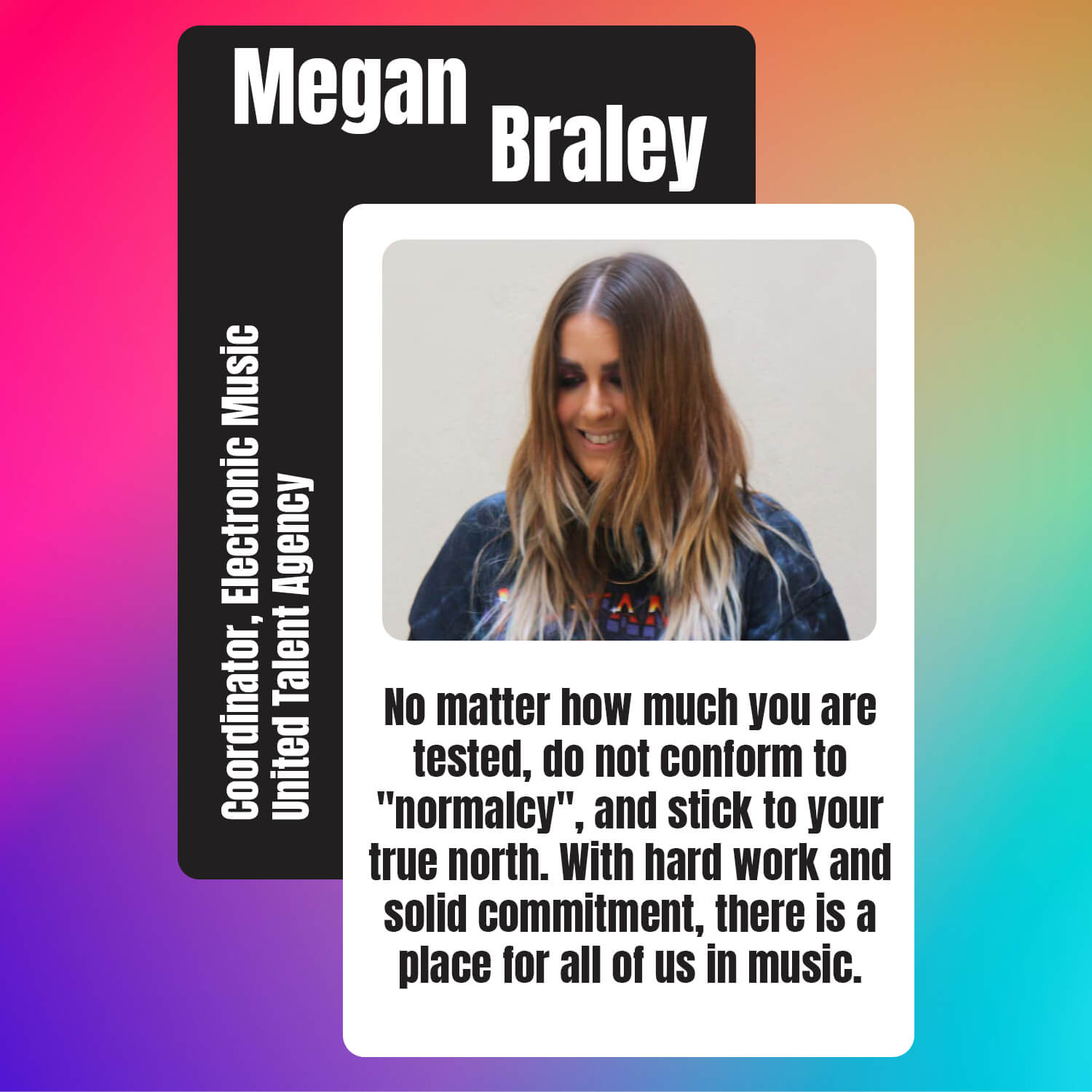 Megan Braley
Coordinator, Electronic Music | United Talent Agency
Megan started in 2012 at The Agency Group in LA. Working her way from unpaid intern, reception, to an assistant on multiple desks and a wide variety of rosters including rock/metal, jazz, folk, electronic and more. After 4 years of learning the core agency ropes, she decided to fully submerge herself in electronic music where her true passion was. Adam Chaves (Shalizi Grp) connected the dots between Megan, and the Circle founders/owners/operators, Steve Gordon, and Kevin Gimble, which solidified her career path at Circle Talent. After a groundbreaking move, UTA later acquired Circle in 2018, ultimately forming their incredible Electronic Music Dept.
Megan's current day to day work is tour routing & strategy, A&R, project coordination alongside various agents within UTA Electronic. The UTA roster includes respected names such as Excision, Swedish House Mafia, Marshmello, Illenium, Alesso, Boris Brejcha, ZHU, Netsky, and countless others.
Working alongside some of the monumental artists Megan grew up with: Kaskade, Deadmau5, Infected Mushroom, Paul van Dyk, and so many more. Megan is the first coordinator AND female to be promoted within UTA Electronic, paving a new path for other great colleagues to shine.
Some attributes that Megan feels helped her find success in this field: "Trust your gut. Don't be a jerk. Kindness isn't weakness. Teamwork is essential. Be a mentor. Ask infinite questions. Make mistakes. I would like to give an extra special shout out to my lifelong mentors, Steve Gordon & Kevin Gimble, who took a chance on me, believed in me, and haven't looked back since. I wouldn't be where I am today without their support and dedication toward what we do. So much love to everyone on our team. I have also been extremely blessed to have the immense support of my family from day one in this wild industry."
Advice for others: "No matter how much you are tested, do not conform to "normalcy", and stick to your true north. With hard work and solid commitment, there is a place for all of us in music."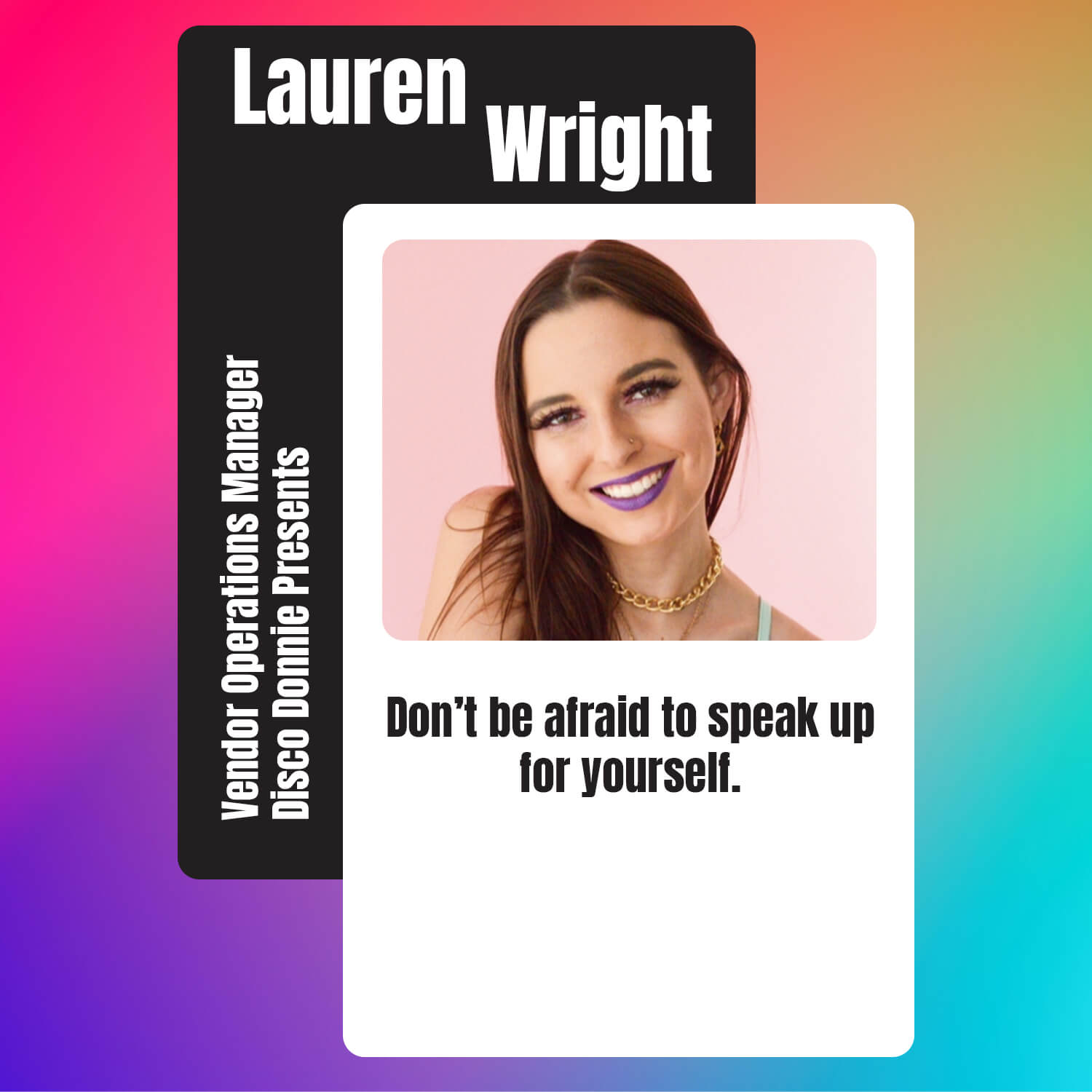 Lauren Wright
Vendor Operations Manager | Disco Donnie Presents
Lauren started by helping out friends bands with merch, album cover photos, etc. When she moved back to Texas in 2016, Lauren started working DDP Aqua shows every Sunday at SISU, working box office for Third String Productions, and hospitality for Bomb Factory, Canton Hall, and Trees.
As the Vendor Operations Manager for Disco Donnie Presents, Lauren advances all the food and retail vendors for DDP festivals. From the moment vendors are selected until they leave the festival site, she manages operations.
As an independent contractor Lauren assists tours, shows, or festivals with Artist relations, hospitality, merch management, box office management, VIP experiences, etc.
Some attributes Lauren attributes to her success: "Always be on time and willing to help in areas outside your roll to make the magic happen. Growing up working at my family's business, I learned that sometimes you need to wear more than one hat and be knowledgeable in all fields to be most useful."
Advice for others: "DON'T BE AFRAID TO SPEAK UP FOR YOURSELF."