While it's no secret that women are underrepresented in the Music Industry; Female leadership has proven to be an imperative factor for the success of the Electronic Dance scene. Women of The Disco is an initiative to highlight some of those powerhouses who are trailblazing the path and shaping the future of EDM.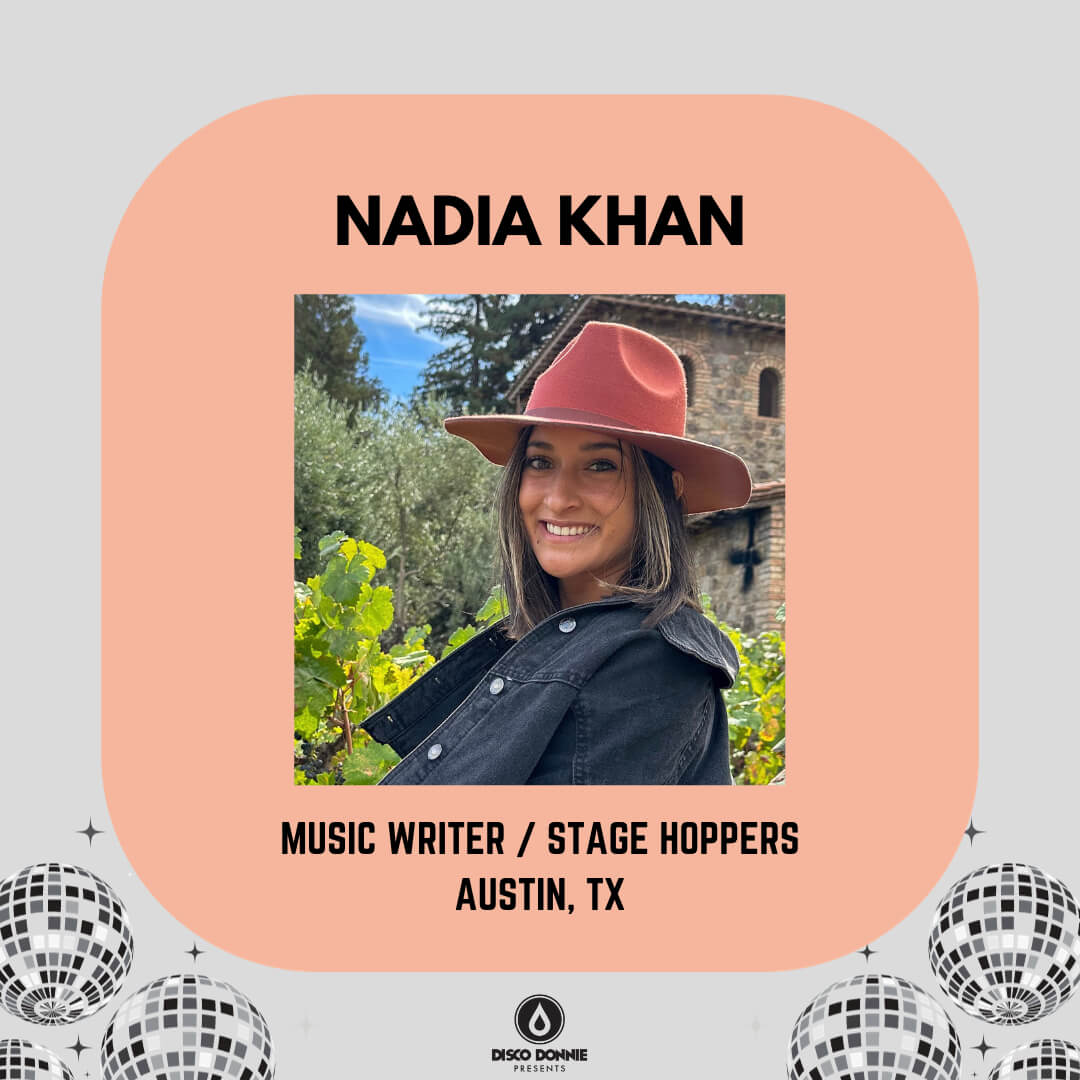 Nadia Khan
After graduating college and moving to a new city, Nadia wanted to meet new people and get involved in the EDM scene, so she volunteered to work a music festival in Austin, TX. Assisting with AR & BOH at ILLfest later led into working door & merch at local shows for Mark My Words. After a few club shows, Nadia got back into working festivals. She traveled around Texas supporting DDP's staff team at the merch tent and Disco Mart, and this summer, Nadia had the opportunity to shadow Sunset Music Festival in Tampa as a DiscoU participant, overseeing stage management, production, media/marketing, and more.
In addition to assisting on site, Nadia enjoys covering entertainment news, culture, festivals, and new releases on behalf of Stage Hoppers — a social channel and media outlet for live music fanatics. She writes weekly articles and posts on their socials almost every other day. She is always drafting content in her head and searching for exciting opportunities and events to cover.
Planning ahead and being proactive has helped Nadia find success within her career. Balancing a 9-5 job, relationships, family time, and self-care can be a trip. Her weekends are almost always booked, but hey – she likes to keep busy.
Advice: Gain experience, in anything! Your first job may not be that glamorous, but stay open minded and learn quickly. Discover what you like/what you don't like, what you're good at/skills you lack, and meet as many people along the way. Take a deep breath every while. It's a fast paced industry but as they say, time flies when you're having fun!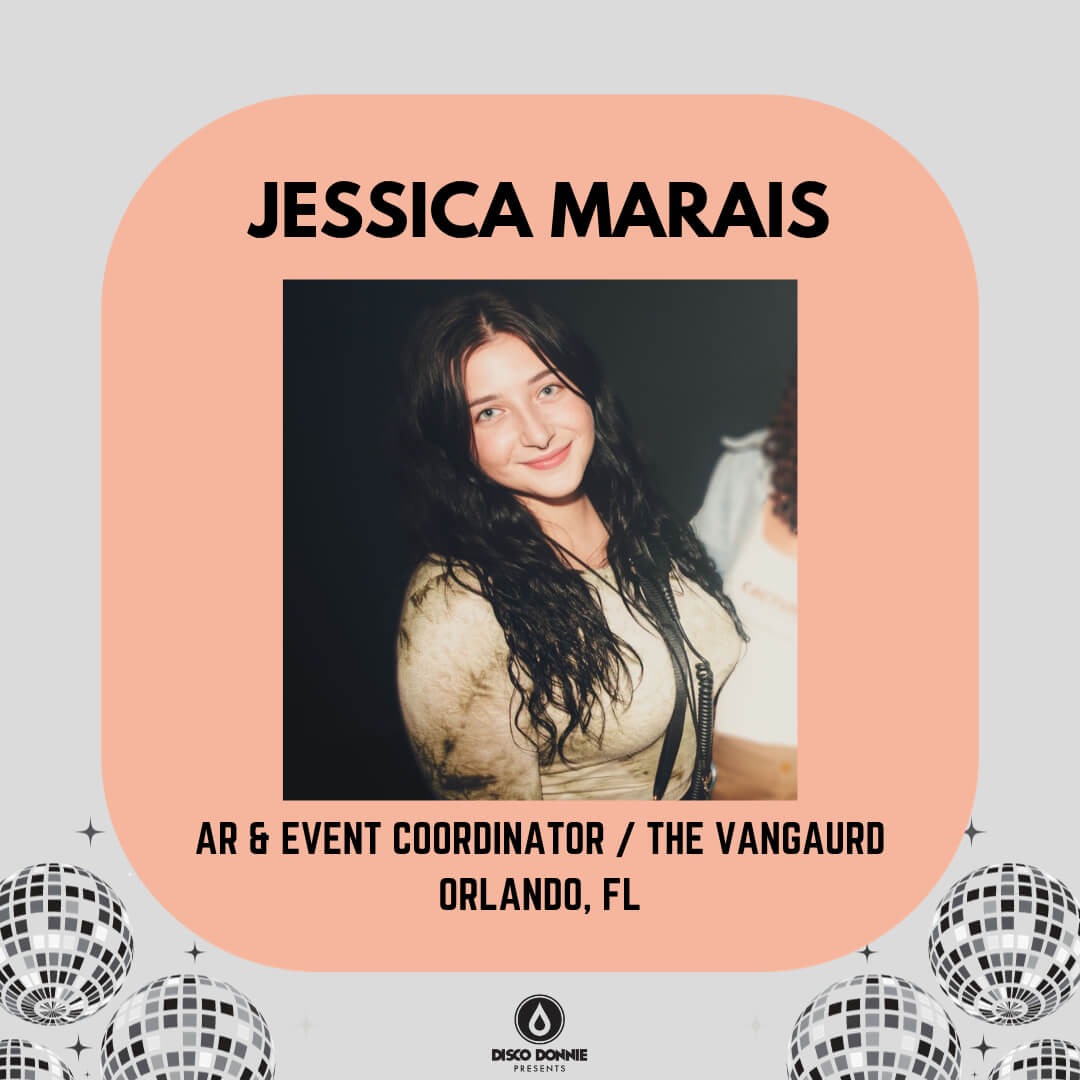 Jessica Marais
Jessica started off as a promoter for Steez Promo in Baltimore, MD and then started her freelance career with festivals doing social media marketing & credential management. Jessica found her passion for Artist Relations & Event Management working for Nightmare & Big Dub Festival and then started working at Echostage & Soundcheckdc shortly after assisting with VIP and moved into Artist Relations & Hospitality.
Jessica's current role consists of artist advancing, booking support talent, day to day project management, show operations, ticketing, assisting various departments in prep & DOS.
Some of her notable achievements include working at various festivals across the US such as Rolling Loud, Electric Forest, Insomniac events. She started off as Artist Liaison at The Vanguard and quickly moved to an Event Management role within a short period of time.
Some of Jessica's attributes have helped her find quick success. She loves socializing, has a hard work ethic, and is detail oriented. She loves creating spaces for people to celebrate and bring happiness to others, dedication, passion for music as she started off as an electronic music fan back in 2012.
Advice: Don't compare yourself to other people. You can literally do anything you put your mind to and don't let anyone tell you differently. If you want something bad enough, go after it. Always be open to taking on different roles, working with different events, and learning more within the industry. Believe in yourself and always remember where you are now in life is once where you wanted to be. The sky's the limit.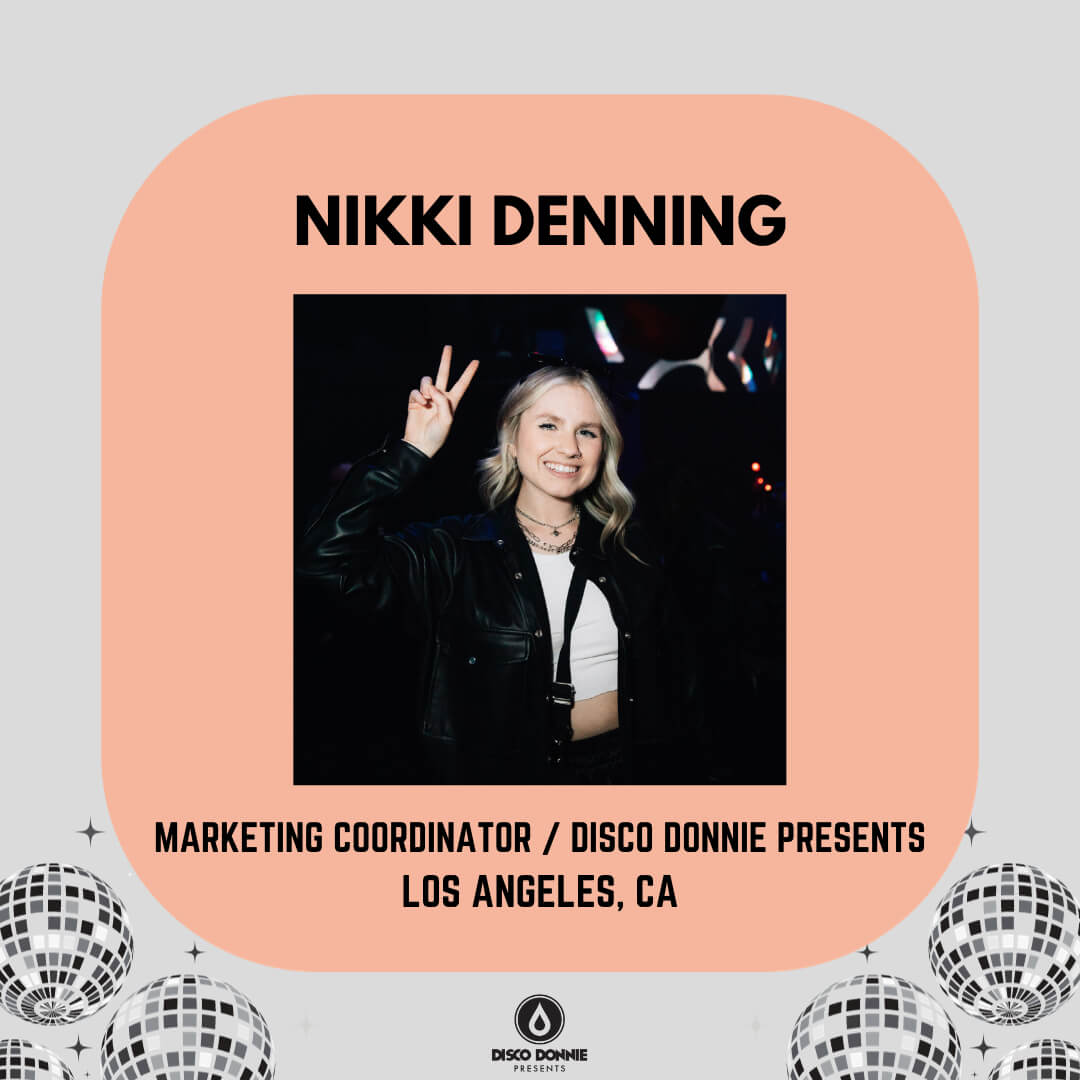 Nikki Denning
After Nikki's first festival experience in 2018, she knew she wanted to work in the music industry. She had never been entirely certain about her career path but that was the first time she genuinely knew that she wanted to work in entertainment. In 2019, Nikki aimed for an internship but it was too early in college for her to earn credits. Over the next few years, Nikki made more friends in the music industry and built connections that eventually led to her to her first job in entertainment. During her last college semester, Nikki took internships in experiential marketing with Ideaison and social media with Space Yacht. As the semester ended, she finished her Ideaison internship but kept a part-time role at Space Yacht. A few months later, Nikki joined Thrive Music as an assistant, which later turned into a full-time position in social media marketing. A year later, Nikki sought new opportunities and started at Disco Donnie Presents as a marketing coordinator.
Nikki's daily work involves collaborating with the marketing team to handle brand strategy, social media, and fan engagement for Disco Donnie Presents' events. Nikki also gets to travel to festivals and see all of the team's hard work come to life.
Advice: For those looking to enter the entertainment industry, my advice is when faced with something unfamiliar, give it a shot. Say "yes" to things outside your comfort zone, as you won't know if you're good at something until you try. Your first job doesn't have to be your last, so take any opportunity to get your foot in the door.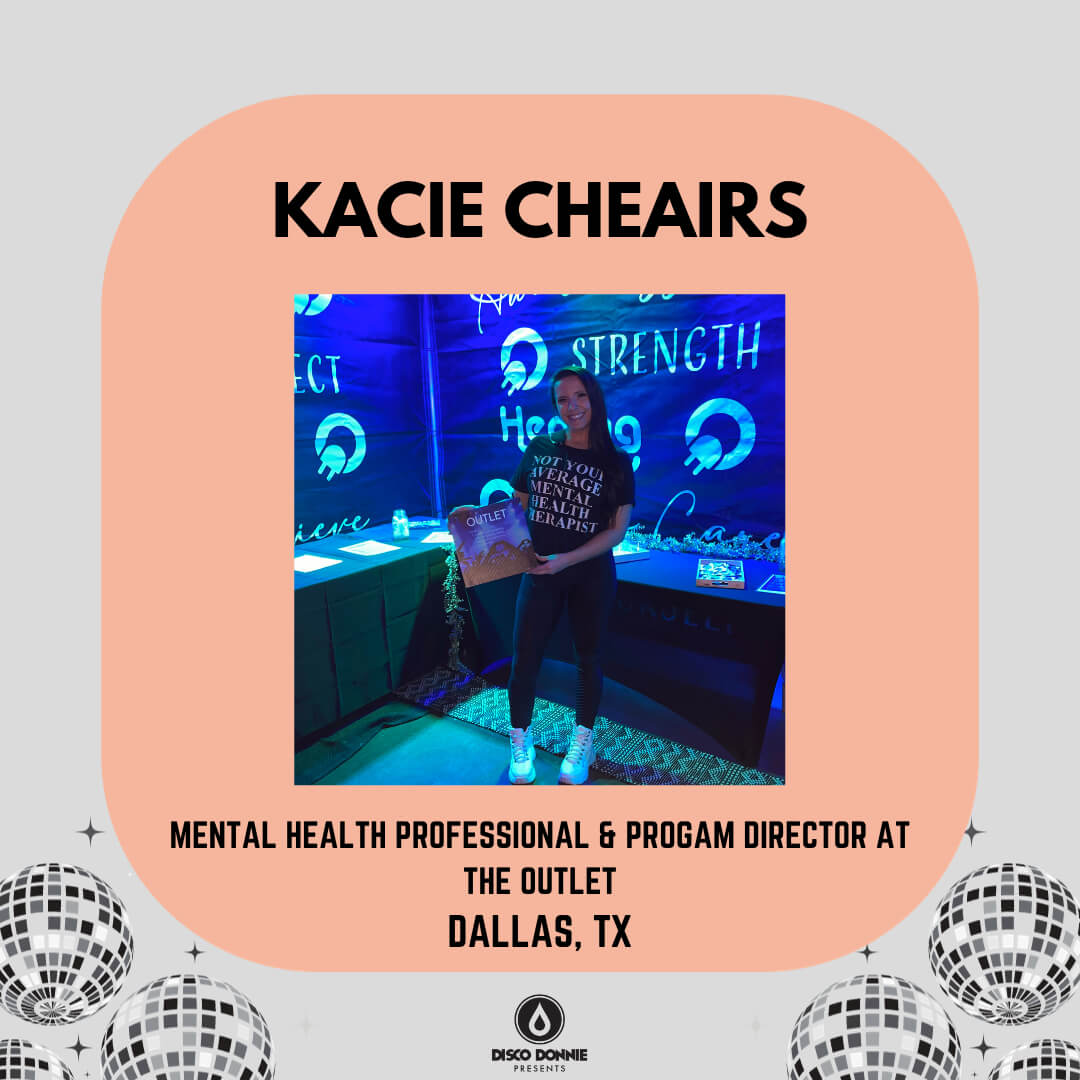 Kacie Cheairs
Kacie has been an avid music lover for as long as she can remember, and has attended a wide variety of music festivals for over 10 years. In graduate school while studying clinical mental health, Kacie spent any free time she had attending local shows (shoutout Lizard Lounge) and music festivals as a way to decompress from school / life stressors and connect with others. What drew her specifically to EDM events was the positive energy and compassionate culture she noticed was a common and consistent standard within the community. As she became more connected in the Dallas EDM scene Kacie met some of her now closest friends, many of which happened to work within the industry, which is how she got her start. Kacie always had this pipe dream of utilizing her passion for mental health and wellness as a contribution the industry, and this dream became a reality in 2022 when Anna (her best friend and a DDP powerhouse) told her about Anna's team's desire to create a mental health/wellness activation called Outlet and were looking for a therapist to aid in establishing this program. Ecstatic at the opportunity, Kacie created a proposal containing ideas she had for the initiation of Outlet and met with the DDP President and Vice President Michele and Evan who then provided and trusted Kacie with developing this exciting and innovative activation.
To date, Kacie has had the privilege of implementing Outlet at 7 events including Ubbi Dubbi, Sunset, Freaky Deaky, SoWhat?!, Lights All Night, and Shaq's Bass All Stars, with many more in the pipeline. She is very excited about the future of Outlet and the opportunity to increase awareness and continue the conversation on taking care of our mental health while reducing the stigma that's long been associated with it.
Kacie's day to day is spent working at a private practice as a mental health therapist meeting with teens and adults struggling with a variety of psychological impairments, which is a rewarding but at times exhausting vocation. Ironically, the creation of Outlet as a mental health/wellness resource for others was in itself an outlet for her, because she is able to channel a more creative and less 'clinical' side of her skill set. When managing the Outlet with her support staff, their responsibilities are to provide onsite resources and information relevant to mental health and engage with attendees who are seeking support or just want to take a break from the music.
Some of Kacie's notable achievements include: NCAA collegiate athlete – volleyball, fully licensed LPC, National Certified Counselor, Outlet, presented as guest speaker at an international legal conference, providing research and education on mental health and wellness in the industry.
Some of Kacie's attributes that have helped her find success within her career include having empathy and holding space for others while being an attentive listener. These are skills that she's obtained over time and have contributed greatly to her success. It seems so simple, but in a world as fast paced and ever changing as ours these are attributes that are often unappreciated until experienced. It is truly amazing how impactful it is to our psyche when we feel listened to, understood, and validated. Also, patience during seasons of life that are difficult and ambiguous while remaining disciplined is essential.
Advice: A favorite quote of hers is "One day you will tell your story of how you overcame what you went through and it will become someone else's survival guide" – Brene Brown. Kacie thinks this quote is especially impactful for women in the industry, because we endure certain struggles that are unique to us but can make us stronger in the end. However, sometimes life can feel isolating and intimidating in the face of adversity, so it is important to know you have a community of women in your corner who are here for you and support you.
Fear kills more ambitions than failure ever has, so don't be afraid to take risks or try something unconventional because you never know the difference it could make or the lessons you could learn in the process.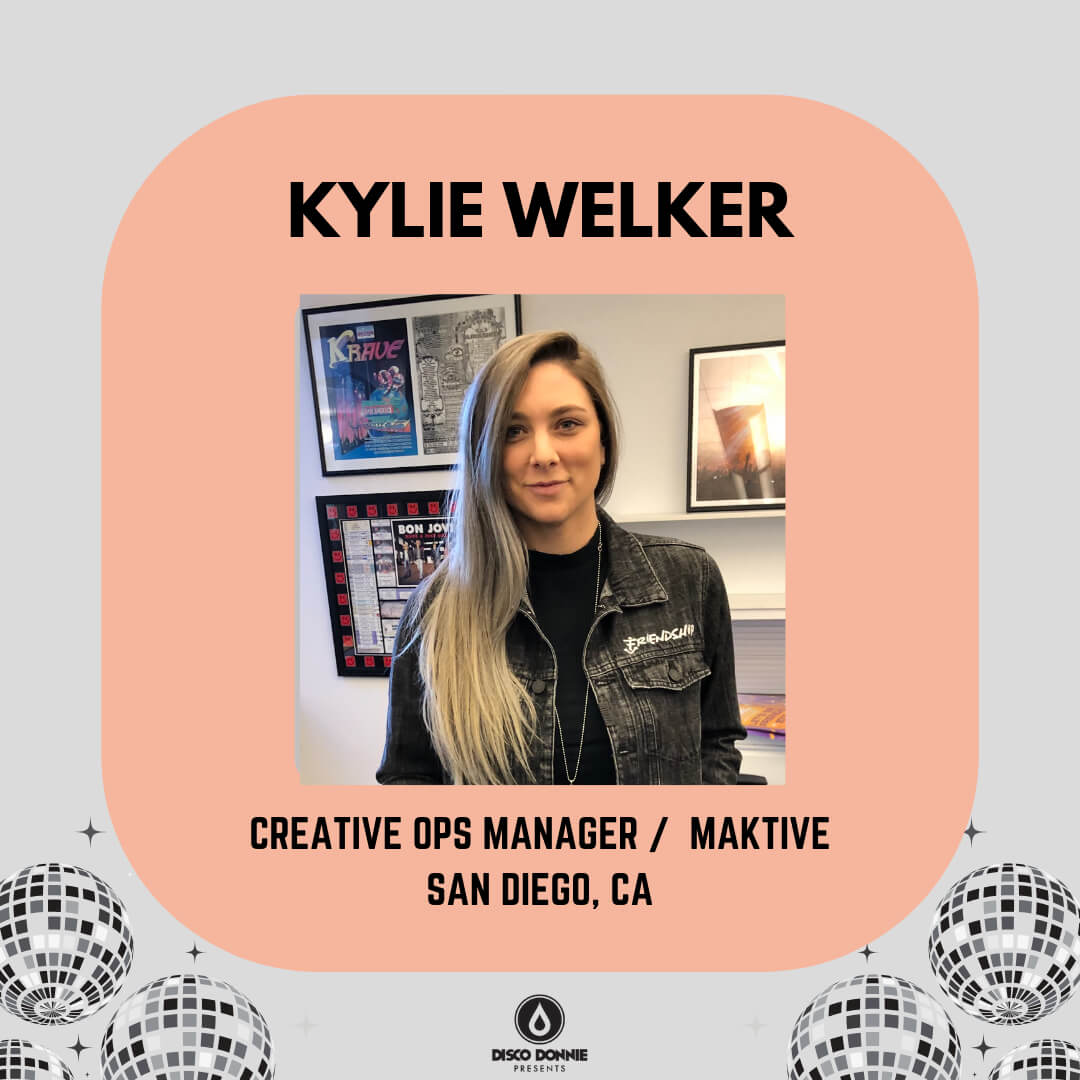 Kylie Welker
Kylie went to USC and received her BS in Business Administration with a minor in Communications & the Entertainment Industry. She first wanted to go into the movie industry and received a job at IMAX in Santa Monica, CA as Executive Assistant to the CQO & SVP of Post Production. After 3 years at IMAX, Kylie decided to take time off and solo travel around the world. Three continents, 23 countries, and a year and a half later she headed back to LA. Her first job back was a temp job at Livestyle as Gary Richards' Executive Assistant while he was building his new brands All My Friends and FriendShip. Kylie quickly became a permanent hire and with every new event he produced, she took on more responsibilities within the festival operations. By the 2020 sailing of Friendship, Kylie was handling all internal operations of the sailing which included overseeing the booking platform, guest relations team, staff logistics and travel, and merchandising. It was through this relationship that she met Bryan McClanahan and Patrick Randall at Maktive. During the pandemic Kylie moved back to San Diego, CA and as the festival industry began to reemerge in 2022 she got a call from them asking if she would come on as Creative Operations Manager for the company.
Kylie's current role includes overseeing day to day operations in event and stage production and managing the execution and logistics of creative projects from start to finish. She also provides innovative solutions to creative problems, is a thought leader to her team and clients, and serves as the go-to person when solutions are needed. Kylie also develops strong client relationships and is seen as a true partner with a deep understanding of a client's business and needs. In her day to day duties, she oversees budgets for large scale projects including staffing and equipment resourcing. As well as scheduling, running, and organizing team meetings and client projects onsite. Kylie always finds a way to get along with anyone she works with and earns respect by respecting others.
Advice: Don't ever let people make you think that being a woman in this industry is a weakness, it is often where she finds her strength.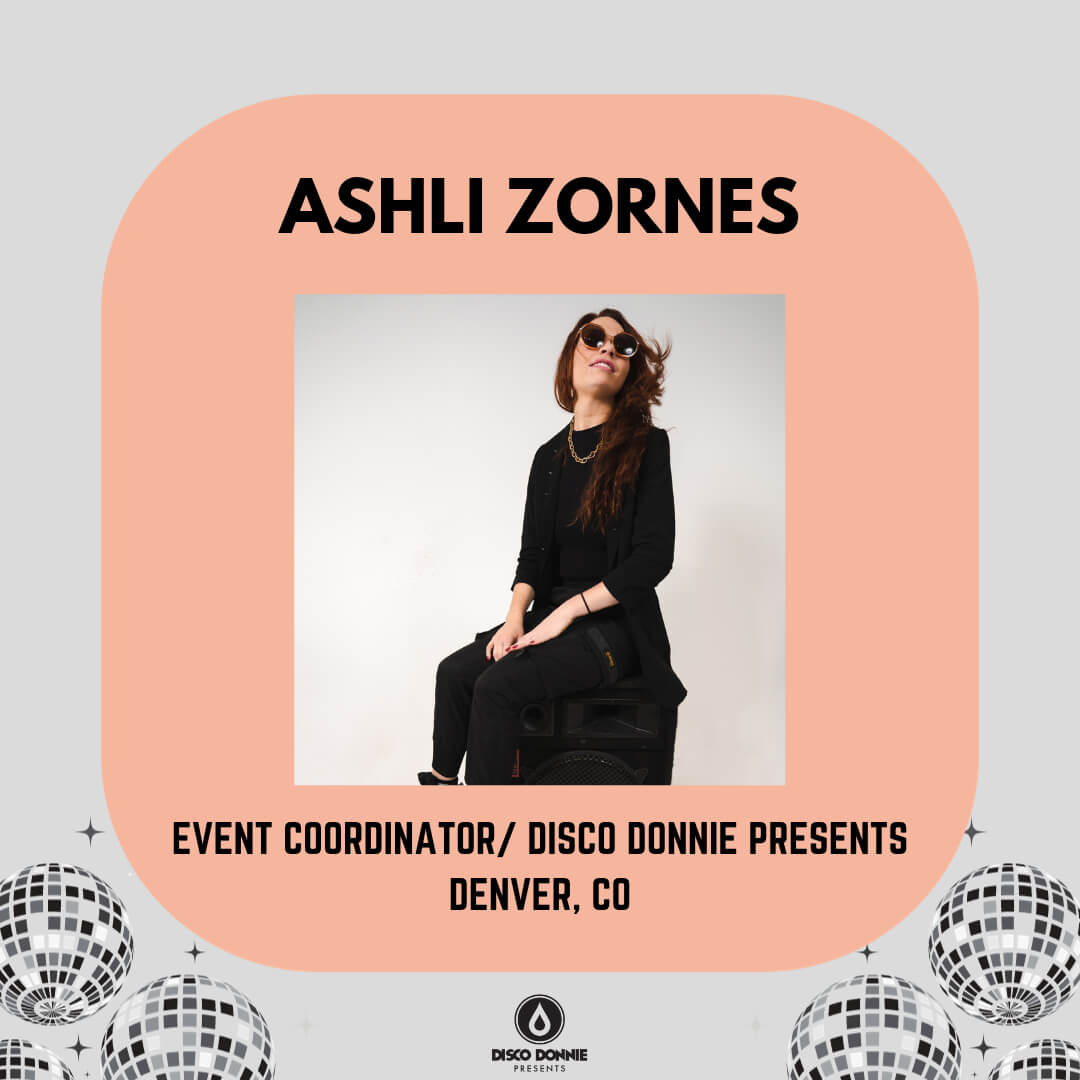 Ashli Zornes
Ashli hails from a small Kentucky town and ventured to Denver right after graduating from Morehead State University. She forged a career in the corporate world, leading teams in the Telecom Industry at Verizon before becoming an Operations Leader at Tesla in charge of Colorado's Delivery Operations. Despite her successful career, her heart felt unfulfilled, and she sought change.
After Ashli's first visit to the awe-inspiring Red Rocks Amphitheatre to witness Alison Wonderland perform, she was completely captivated. That season, she found herself attending a total of 55 shows. However, it was in 2021, during her life-altering experience at the Ultra Music Festival in Miami, that her journey took a significant turn.
At Ultra, Ashli had the privilege of crossing paths with the remarkable women of 2+2 Management. Throughout the weekend, they generously shared their profound passion and invaluable career insights, reigniting the fervent excitement she had been seeking. Inspired by their dedication, a few months later, Ashli took the bold step of founding A2Z Management. In this new venture, she fostered collaborations with a multitude of artists, photographers, visual jockeys (VJs), and dancers.
Simultaneously, while working closely with her team, Ashli ventured into the realm of Tour Management after a serendipitous encounter with Sippy, which led to an event in Denver. Over the course of 2022, she found herself assisting numerous artists and eventually became an integral part of Kumarion's team as his Tour Manager. During this period, Ashli embraced every opportunity that came her way, enthusiastically saying "yes" to any task offered. Through these experiences, she had the privilege of meeting numerous individuals who generously shared their knowledge, enabling her to cultivate an exceptional work ethic.
In addition to her professional endeavors, Ashli willingly volunteered her free time to sharpen her skills with various companies. This included contributing to the success of events such as Beyond Wonderland, Okeechobee, and aiding local venues and promoters in Denver as they built shows and events from the ground up.
During her journey, Tyler Fey, her mentor, recommended she join the Festival Team for his and DDP's company, Festication. There, Ashli collaborated with the Paradise Blue team and absorbed the values of the DDP, particularly inspired by Team Members like Megan Lazaroff and Michele Servias. Their words left a lasting impact on her. Ashli subsequently applied to become a part of the team, marking the start of her next chapter. Since then, as the Event Coordinator for Disco Donnie, she has had the pleasure of working with individuals who share a deep appreciation for the magic of music, assisting with various needs across all U.S. markets. Music is Magic.
Ashli attributes some of her success to building trust and being reliable.This industry requires integrity and good intentions. She has always prioritized follow-up. People appreciate being in the know and understanding the why. Loyalty and respect are pillars of strength and remembering that no role is too small to build towards your "bigness" is a way to keep your ego in check and stay humble.
Advice: Focus, Follow-up and Follow-through. Your intentions should always be indicative of a symbiotic relationship. Are you adding value? Are you learning something? Every bit of experience matters and if you stay humble, consistent, and open-minded, you will find your place. Ask for feedback, learn from it, and show growth, people will notice.