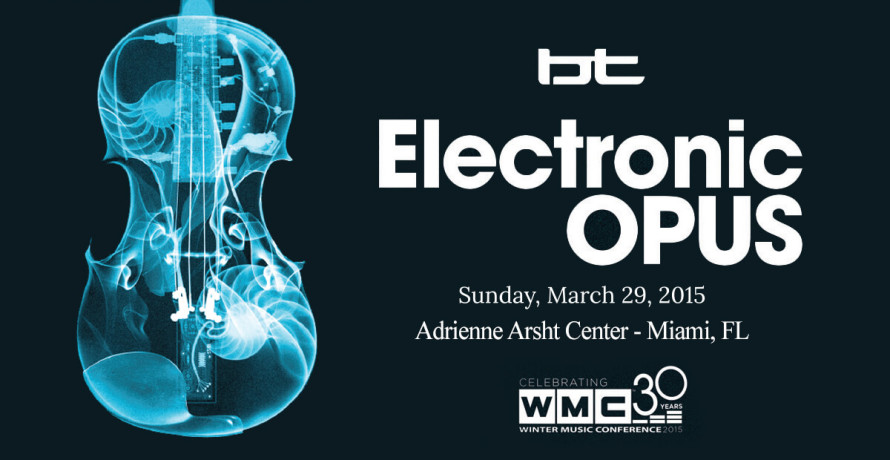 Electronic Opus is making its debut during Winter Music Conference this Sunday, March 29th at the Adrienne Arsht Center of Performing Artsin downtown Miami. This one-of-a-kind entertainment experience collides the multi-faceted talents of BT with dazzling symphony arrangements pinned against a backdrop of custom 3D-mapped projections and holographic displays.
Each component of the show has been re-imagined exclusively for this special endeavor and we want to highlight the minds bringing it all together. We've talked about BT and Tommy Tallarico, up next are the visionary minds over at VolvoxLabs.
A Visual Opus
Based in Brooklyn, NY, VolvoxLabs is a new media design studio with a penchant for creating awe-inspiring experiences by merging cutting-edge technology with organic systems. Bridging the gap between digital and physical realms, the team designs interactive environments by integrating video, sound, architecture and visual effects resulting in mind-bending, immersive environments with responsive geometric forms.
One of of the studio's more recent endeavors was an AV system programming and stage design for another talented electronic talent – Dubfire. The team created the background animation for the musician's stunning Live HYBRID tour.
Using 2D and 3D animation, compositing software, and TouchDesigner, the VolvoxLabs team created jaw-dropping visuals with real-time, sound-reactive scenes fused with pre-rendered 3D scenes. On stage, Dubfire stood in the middle of a multi-dimensional screens that was synced with the design concept to generate custom effects and on-the-go manipulation for a unique performance for each show.
We can't wait to see what the creative visionaries over at VolvoxLabs have in store for us on Sunday, March 29th for WMC debut of Electronic Opus. Tickets are on-sale now, grab yours today!