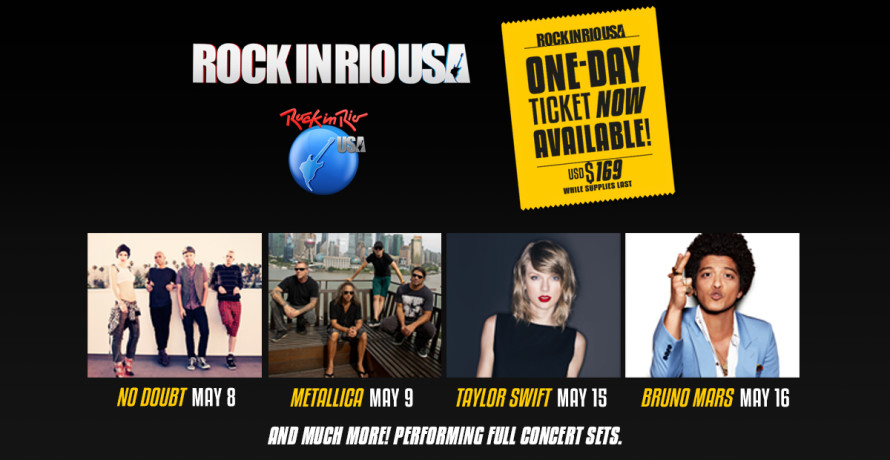 In celebration of Rock in Rio making its USA debut in the party capital of Las Vegas this May, we've been highlighting some of the rock, pop, and dance music talent performing on May 8-9th and May 15-16th with a series of blogs to find out who's Rockin,' Poppin,' and Dancin' in Rio.
Taking place over two weekends for a total of four days over a whopping 37 acres, there's no way we could cover all that Rock in Rio has to offer in one round. So we're back once again with a collection of talent that including the mainstays of the pop and rock world plus emerging, local, and veterans in dance music world.
We've Rocked in Rio and Popped in Rio, now it's time to Dance in Rio… again!
UNER
This guy produces deep and tech house like no other. Hailing from Spain, he really embodies the sexy and deep sounds of house music with a twist of techno. His latest album "Tune 432″ on German label, Diynamic Music, has a great selection to satisfy all house music lovers across the globe.
Wax Motif
Bass house has been sweeping the nation thanks to a blend of hip hop-style samples and the upbeat house beats that make for a great party. Wax Motif keeps that sound moving with style and versatility; on top of his bass house tracks he also dives into the progressive and electro sounds of house music – definitely an artist you shouldn't miss at any festival.
Jeniluv
Jeniluv is no stranger when it comes to throwing down a proper house music set – and she's more than up for the daunting task too. Known for her curating skills at Making Shapes, a recurring party happening off the beaten paths of Los Angeles, Jeniluv is one of California's underground gems and will be bringing her deep and groovy track selections to Rock in Rio.